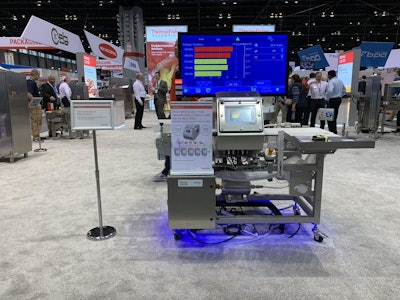 Food manufacturers attending PACK EXPO International 2018 experienced the benefits of a multi-frequency metal detection technology called multiscan, designed to provide improved sensitivity and increased probability of detection compared to previous technologies from Thermo Fisher Scientific. The Thermo Scientific Sentinel multiscan metal detector was in action at the Thermo Fisher booth (N-5706) and the topic of an Innovation Stage presentation.
The Sentinel metal detector's multiscan technology platform uses five simultaneous frequencies and can detect contaminants up to 50% smaller in volume than previous instruments, including the Thermo Scientific APEX 500 metal detector.
Bob Ries, lead product manager, metal detection and X-ray inspection for Thermo Fisher, will lead an Innovation Stage presentation (booth N-4585) on Tuesday, Oct. 16, at 3 p.m., demonstrating how multiscan delivers improved sensitivity and probability of detection.
"The recent introduction of multiscan technology marked an important breakthrough in multi-frequency metal detection innovation for the food packaging industry," Ries says. "For decades, food manufacturers compromised by using single-frequency or dual-frequency metal detectors. Multiscan is the equivalent of running five metal detectors in a row, all scanning for different metal contaminants, raising the probability of finding metal objects and keeping consumers safer than they could before."
Companies in this article