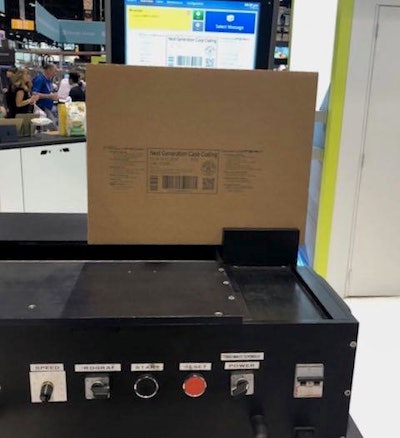 Matthews Marking Systems, a Matthews International company and global supplier of printing solutions for the CPG market, is offering a sneak peek at a brand new system at PACK EXPO International (S-2006). The yet-to-be named printer, which will be available in early 2019, offers 300 Vertical dpi (Vdpi) and uses solid hot melt wax ink. The ink heats up in less than 20 minutes from a cold start and open time of the ink once heated is exceptional, company officials said.
The 300 Vdpi small character printing is good for curved logos and ingredients lists on porous and non-porous secondary packaging. Also barcodes are darker to provide better contrast for barcodes and logos. The system holds 1-2L of ink to allow for continuous printing without a lot of operator touches. Other features include a purge and collect system to maximize print quality and resistance to shock and vibration.
The ink itself is manufactured by GSI, ships non-hazardous and can be developed in a range of colors for a wide variety of applications.
Stop by the booth to learn more about the new product and to participate in the company's Mpactful Solutions educational series, which will feature presentations on solving some of the packaging industry's biggest challenges.