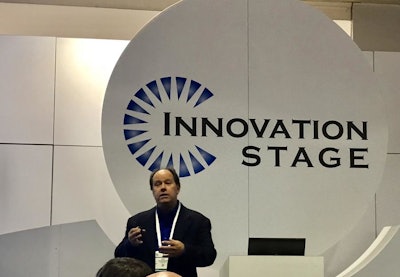 It's probably no surprise that cost, or reducing the current cost per unit, is "usually the number one reason companies automate," according to Rick Brookshire of Epson. But there are other driving factors too. During "The Starting Point for Robot Automation," an Innovation Stage presentation at PACK EXPO International, Brookshire said that any of the following could point to a need to automate:
Volume – lacking the resources to meet the requirements of increased demand.
Quality – while it is human to err, "robots do the same thing every time in the same way, so they have a much better chance of making a perfect product."
Precision – are the parts too small or precision requirements too tight for human hands to handle?
Safety – are the materials unsafe for humans to handle, or are repetitive motions causing injury?
According to Brookshire, organizational alignment on why to automate is critical to success, and requires three things: people, technology and process.
Define your process.
People – make sure you have experienced automation engineers, or access to them.
Technology – use the right products for the application, and the simplest approach to creating a system.
Process – a clear definition of your process drives the technology and defines the skills (people) required for the application. How do you do it today? What are the problem areas? Clear current process definition is a critical success factor.
Identify your requirements.
According to Epson's Automation 101: A Step-by-Step Guide to Getting Started, "there are three areas that must be considered for every robot-based application – speed, precision and payload."
Consider automation components.
Parts presentation – how will you get your parts to the robot?
End-of-arm tooling (EOAT) – standard grippers or custom tools?
Vision/force guidance – is vision required for inspection or precise pickup/placement?
Factory standards – what current factory standards need to be considered when designing an automation system.
Robot base – the base is the core of the system, and must be appropriate to the cycle time and precision requirements.
And finally, consider manpower resources. Will system integrators or in-house resources be used? Brookshire recommends using experts when possible, and stressed to ask for help at the beginning of the process, for best results.
Companies in this article