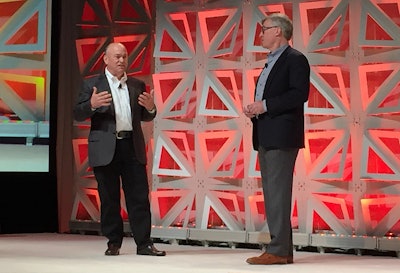 When Jim Heppelmann attended Automation Fair 2017, he came incognito, his company still quietly working out the details of its impending partnership with Rockwell Automation. As far as the public knew, they were still two completely unaligned companies. But at this year's event, going on this week in Philadelphia, PTC and its president and CEO have taken center stage.
Since Rockwell and PTC announced their partnership earlier this year at Rockwell Automation TechED—including a $1 billion equity investment from Rockwell into PTC—the two companies have been hard at work to bring their respective offerings into alignment. This week they've released their first collaborative offering: FactoryTalk InnovationSuite, which provides improved data insights through a single source of operations visibility and systems status.
Included in the collaborative offering are the FactoryTalk Analytics and manufacturing operations management (MOM) platforms from Rockwell; plus, PTC's ThingWorx Industrial Internet of Things (IIoT) Platform, which includes industrial connectivity from Kepware, and Vuforia augmented reality (AR).
The software suite brings together Rockwell's connectivity to operational technology (OT) equipment and devices on the plant floor with PTC's ability to connect to a variety of information technology (IT) data sources beyond the plant. While ThingWorx Analytics builds the predictive models, FactoryTalk Analytics provides real-time scoring near the edge, operationalizing the analytics model, explained Ken Speicher, senior IoT technical sales engineer for PTC. Speicher offered a demo of the new suite at Rockwell's Connected Enterprise booth at the Automation Fair.
This partnership between Rockwell and PTC is the "embodiment of the convergence of IT and OT," said Blake Moret, chairman and CEO of Rockwell Automation. "Software is all they do. And Rockwell has deep roots in the operational technology on the plant floor," he said.
"We're an IT company being sucked into the world of OT because there are such amazing opportunities," PTC's Heppelmann said. Likewise, he added, Rockwell was being pulled into the world of IT and software. "If you align us together, amazing things happen."
The partnership has already produced great benefits, Moret noted. "It has allowed us to dramatically speed time to market, time to value, and increase our portfolio to be more productive."
The investment in PTC is part of Moret's strategy—a departure from Rockwell's traditional focus on organic growth. He has made it clear since taking over the helm more than two years ago that the company will have to pursue acquisitions and other outside investments to get the growth he expects. The automation supplier has made a number of strategic investments lately, but PTC was probably the biggest. Moret noted this during his keynote presentation at Automation Perspectives, the media briefing leading up to Automation Fair.
"This was one that fits like a glove," he said in a separate interview, noting the very positive customer feedback. "We've already won orders that we might not have won without the partnership."
It's not just about the expertise that can be gained by these investments in other companies, but how fast you can get there, noted Sharon Van Zeeland, director of corporate development for Rockwell. As an example, Tom O'Reilly, Rockwell's vice president of global business development, pointed to Rockwell's development of AR technologies over the past few years. Though the automation supplier could have gotten there on its own, the partnership with PTC provided access to the Vuforia AR platform faster.
In fact, PTC gained Vuforia through an acquisition as well. The suite's capabilities draw on investments that PTC has made over the past five years, including its acquisition of ThingWorx for its IoT platform; Kepware, which accelerated PTC's entry into the industrial side of IoT and provided access to real-time data from industrial equipment; and the AR platform from Qualcomm Connected Experiences.
AR is a key application within the InnovationSuite, delivering more efficient and effective ways of looking at digital information within the physical world. It enables more efficient training, wider knowledge sharing and better first-time fix rates.
At a demonstration in its innovations booth at the show, Rockwell is showing AR's use with a flexible beverage packaging line. In one case, it enables users to see where yellow and red zones are situated around a safety system created by infrared light barriers. Cama, an Italian manufacturer of secondary packaging machines, is starting to implement Vuforia into its designs, and is demonstrating the ability to gain a transparent view inside a machine to diagnose issues without opening it up.
InnovationSuite also features intuitive, user-friendly interfaces that give users a view of the operations that is tailored to their role. An operations manager, for instance, can view overall performance of a facility, or multiple facilities, before researching the performance of specific equipment or factors impacting overall equipment effectiveness (OEE).
The software also leverages powerful artificial intelligence (AI) technology to simplify complex analytical processes. This helps to transform massive amounts of raw data from IT and OT sources into actionable or proactive information to improve performance and reduce the impact of downtime.
Companies in this article