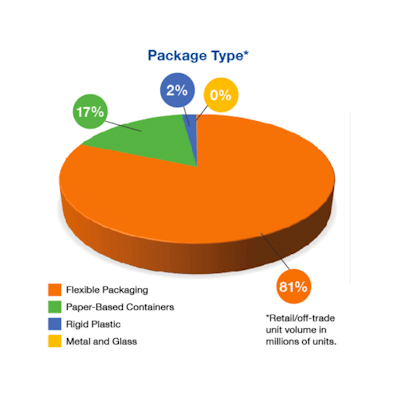 Top Five U.S. Brands in 2018
Brand Company
Lays PepsiCo Frito-Lay
Doritos PepsiCo Frito-Lay
Cheetos PepsiCo Frito-Lay
Ruffles PepsiCo Frito-Lay
Jack Link's Links Snacks, Inc.
Market Analysis
Healthier savory snacks are driving significant growth as consumers look to snack more wisely. Puffed snacks was the most dynamic category in 2018 with current value growth of 8 percent.
Snack mixes continue to draw consumer attention, providing a complex taste experience that is both unique and generally perceived as better for you. Innovations such as Hershey's and Reese's Popped Snack Mix, Cheez-Its Duoz, and Doritos Crunch Mix have combined well-known snack brands with other snack types to create an entirely new snacking experience that is on trend with consumers.
Even meat snack brand Oberto Snacks Inc. has experimented with this trend by adding meat snacks to a novel trail mix format with Oberto Trail Mix. High levels of innovation in these snack mixes are expected to maintain consumer interest and drive growth.
To learn more about trends in the savory snack sector, attend ProFood Tech, the only processing trade show in North America that addresses all food and beverage market sectors. The event will feature educational sessions with industry experts and innovative technologies from 400 exhibitors designed to give you a competitive edge. ProFood Tech will take place March 26-28 at McCormick Place in Chicago, Illinois. Register for the event at www.profoodtech.com.
Source: Euromonitor