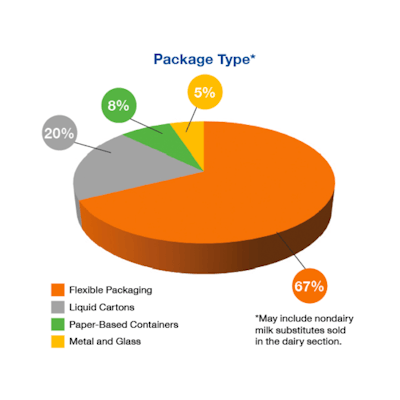 Top Five U.S. Brands in 2018*
Brand Company
Kraft Kraft Heinz Co.
Chobani Chobani
Dairy Pure Dean Foods
Coffee-Mate Nestlé S.A.
Dannon Danone
*May include nondairy milk substitutes sold in the dairy section.
Market Analysis
Total packaging is projected to grow by 4 percent in retail volume terms over the forecast period to reach 39.8 billion units in 2022. The growing demand for convenience helped drive a boom in drinking yogurt, which provides a portable and nutritious snack or meal replacement.
The consumer shift from spoonable to drinkable yogurt will have important ramifications for dairy packaging as spoonable yogurt in thin-wall plastic containers gives way to drinkable yogurt in HDPE bottles.
As more consumers eat protein, they will seek convenient yet high-quality and healthy snacking options like cheese. A growing number of Americans view cheese as a high-quality, nutrient-dense snack that is highly amenable to on-the-go lifestyles. Cheese manufacturers have sought to capitalize by appealing to the consumer desire for convenience and quality through packaging.
To gain more insight into dairy trends and processing solutions, attend ProFood Tech, the only processing trade show in North America that addresses all food and beverage market sectors. The event will feature educational sessions with industry experts and innovative technologies from 400 exhibitors designed to give you a competitive edge. ProFood Tech will take place March 26-28 at McCormick Place in Chicago, Illinois. Register for the event at www.profoodtech.com.
Source: Euromonitor