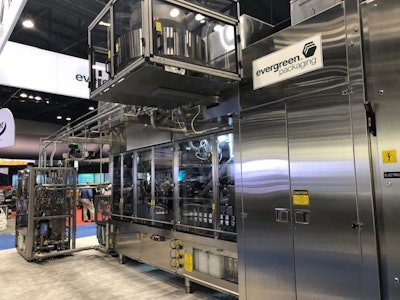 Evergreen Packaging Equipment, a maker of equipment for fresh refrigerated liquid food products, is introducing a high-speed half-gallon gable top packaging machine this week at ProFood Tech (booth 828).
Designed for high production capacity, the EH-210 can handle fill volumes of 40 oz up to half-gallon/2 liter, at speeds up to 12,600 cartons per hour (cph) with a single index top down fill system.
Using Allen Bradley controls with a GuardLogix Safety PLC, the EH-210's programming handles up to 200 unique SKUs. Servo drive technology provides repeatable package performance and automatically controls fill volumes and profiles based on product and carton size. According to the company, infinite fill adjustments allow for less downtime with quick and easy changes to fill volume and carton height via the touchscreen.
The EH-210 leverages extended long life (ELL) components which include a self-contained CIP/SIP system, environmental control features, carton decontamination and a hermetic filling system to maintain product quality. An auto sanitize system is standard to keep product contact surfaces free from harmful microorganisms.
In addition, an optional ergonomic infeed provides operator comfort and ease of loading. A consumer-friendly SPOUT-PAK resealable cap available to enhance consumer and preserve product freshness.
As with all Evergreen Packaging gable top machines, the EH-210 is backed by 24/7 OEM parts and service to meet customer needs, the company said.
Also at the show, the company—which is also a leader in paperboard and plant-based packaging solutions—announced that Johanna Companies will be the first customer to use Evergreen Packaging's innovative SmartPak cartons for its Tree Ripe product line. SmartPak cartons feature a sleek design that is not only easier for consumers of all ages to handle, but also optimizes space on retail shelves, allowing retailers to stock more products across each shelf. Tree Ripe juices in new SmartPak cartons hit stores earlier this month.
Separately, New Barn Organics announced that it is transitioning its almond milk line, previously packaged in plastic, to Evergreen's PlantCarton paper packaging. The PlantCarton brand is the culmination of Evergreen Packaging's longstanding commitment to sustainability with an emphasis on the importance of using renewable materials in packaging.
Companies in this article