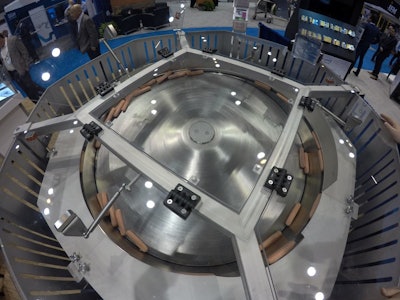 Shibuya Hoppmann, a maker of filling, feeding and assembly systems, unveiled the FTS-50 Sanitary Food Feeder this week at ProFood Tech in Chicago.
Created for customers in the fresh and frozen food industry who require sanitary production and handling of food products, the custom design can feed and orient products at speeds of up to 500 parts per minute. A slotted frame allows for quick and easy washdown cleaning. The pickled and passivated stainless steel construction is what provides the sanitary production for food handling, the company said.
Other features include: continuous welded seams, minimized horizontal surfaces, bolted connections gap spaced, bowl and center disc 316L stainless steel, stainless steel drive train components (including stainless steel dual AC motors) and platform mounted tooling.
The FTS-50 also offers easy access for cleaning and no-tool changeover. Some products that can be run in this feeder include, frozen hot dogs, cheese sticks, cookies, potato patties, frozen egg rolls, frozen bread and more.