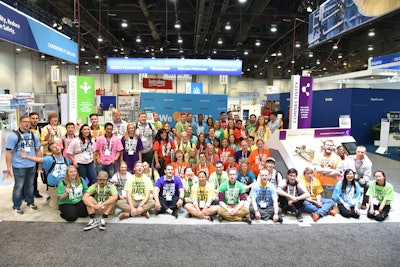 Emerson, featuring leading product brands such as ASCO Numatics, will sponsor the 10th edition of the Amazing Packaging Race at PACK EXPO Las Vegas and Healthcare Packaging EXPO 2019 (Sept. 23–25; Las Vegas), according to show producer PMMI, The Association for Packaging and Processing Technologies. The Amazing Packaging Race brings together students and exhibitors on the final day of the show with student teams completing tasks assigned by exhibitors throughout the nearly 900,000 net sq ft of show floor.
"Over the years, Emerson has shown their willingness to provide educational opportunities for students in the packaging industry. Their consistent sponsorship has made the success of this program possible, and we are grateful for their continued support," says Jim Pittas, president and CEO, PMMI.
The Amazing Packaging Race will take place on Wednesday, Sept. 25, during the last day of PACK EXPO Las Vegas and Healthcare Packaging EXPO 2019 in the Las Vegas Convention Center.
"This opportunity not only gives students an engaging way to learn about the packaging and processing industry but also introduces them to possible career opportunities," says Andy Duffy, vice president of sales at ASCO. "Students can also network and build teamwork skills in an exciting, hands-on approach to learning."
The race will conclude with the announcement of the first, second and third place teams at the Emerson Booth (LS-6107).
Exhibitors and PMMI Partner Schools are invited to participate in the Amazing Packaging Race. Exhibitors who wish to participate in the race are asked to contribute $500 to the PMMI Foundation, which supports educational efforts, including scholarships for students at PMMI Partner Schools. For more information, contact Kate Fiorianti, senior manager, education, PMMI at 571-287-4406 or kfiorianti@pmmi.org.