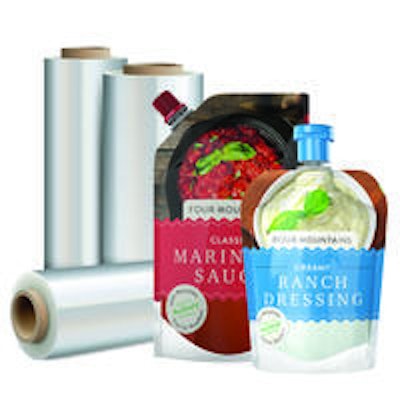 In their PACK EXPO booth in the Lower South Hall, Scholle IPN featured a solution for transparency and recyclability through the introduction of RecShield™ film for spouted pouches.
Pouches made from RecShield deliver the product protection and long shelf life required for applications such as applesauce, but they can also be recycled along with other polyethylene films. RecShield's transparency allows brands to design labels around the attractive colors of aseptically-sterilized or hot-filled products. Through the utilization of RecShield, pouch products do not have to compromise on barrier protection to provide an environmentally-conscious alternative for packaging, says Scholle's Chad Mueller Vice President and Chief Technology Officer.
RecShield is a nine-layer coextrusion with EVOH at the core and various combinations of polyethylenes ranging from plastomers for good heat sealing properties and puncture resistance as well as HDPE to provide added heat resistance and stiffness. Surface printing and a heat-resistant overprint varnish are included. Customers interested in RecShield can order pre-made pouches from Scholle or order rollstock to make their own pouches. But Mueller suspects the earliest applications will be of the pre-made pouch variety.