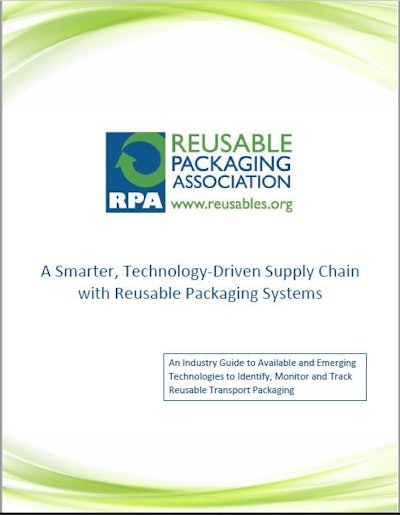 The Reusable Packaging Association (RPA) issued an industry white paper to provide guidance on current technologies for the identification, monitoring and tracking of reusable transport packaging.
A panel at Pack Expo Las Vegas will discuss the report on Tuesday, Sep. 24 at 11:30 am in the Reusable Packaging Learning Center, moderated by Stockman with panelists Gail Peter Wong of AT&T IoT, David Kalan of Paxxal Inc., and Ernest Wood of C2it, Inc.
The paper is a collaborative effort by member companies and invited experts, exploring how new products and services for reusable packaging such as pallets, bins and containers are offering breakthrough capabilities for asset management, supply chain visibility and real-time data capture.
The paper's three primary sections are:
General information on markings and labeling for product identification

Sensors for monitoring product and content conditions

Communication devices for tracking product location and movement.
Download your copy of the report, A Smarter, Technology-Driven Supply Chain with Reusable Packaging Systems, at reusables.org/reusables-library/reports-and-data.