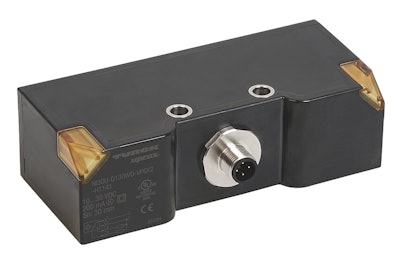 Turck has upgraded its metal can detection capabilities for the food and beverage industry, improving the design of its inductive proximity sensor to give it a longer life, food-grade housing and an LED design that is easier to see from all angles.
The innovations in the new design came out of conversations with customers, who wanted a way for the sensor to see less wear and tear from cans bumping against it as they make their way down the line, commented John Murphy, sensor product manager for Turck. As Murphy showed at Turck's booth this week at PACK EXPO Las Vegas, the Q130WD now fits better between aluminum rails and is installed with a slight recess so that it no longer protrudes onto the line.
The non-contact unit is specifically designed for sensing metallic targets on high-speed food and beverage lines. With a switching frequency of 250 Hz, it can detect up to 900,000 cans per hour, avoiding production errors on canning lines and conveyors by ensuring there are no gaps in the line or counting cans before they enter the infeed of the filler. Turck's Q130WD sensors feature Uprox Factor 1 technology that senses all metals at the same range. This improves flexibility and reduces costs because no sensing changeover is needed when a different type of metal can is introduced.
The new design also has an upgrade in its housing, which now has IP68/IP69K ratings for washdown, and is resistant to all common alkaline and acidic detergents.
The sensor also now incorporates higher-visibility corner LEDs. They refract light in different directions, Murphy said, to make it easier for users to know at a glance that the sensor is operating correctly.
Companies in this article