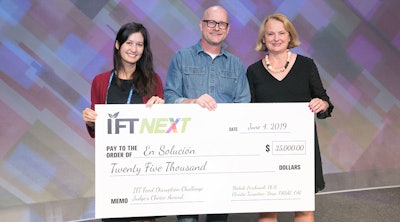 The Institute of Food Technologists (IFT) has launched its third annual IFTNEXT Food Disruption Challenge, an innovation pitch competition that helps emerging food and drink startups, entrepreneurs and innovators gain visibility and make strategic connections that will assist in advancing the science of food and its positive impact on the sustainability of the global food supply.
The competition winner will receive the IFTNEXT Food Disruptor of the Year™ award, including a $25,000 cash prize, at the July 2020 IFT Annual Event and Food Expo in Chicago. Featured session attendees also will select an IFTNEXT Food Disruptor People's Choice awardee, who will receive a cash prize of $5,000.00.
The application period runs from December 3, 2019 through January 9, 2020.
Companies in this article