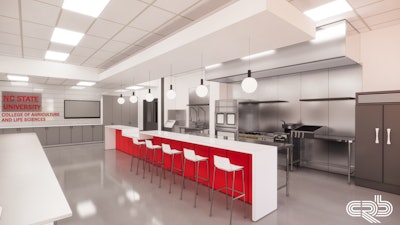 The NC Food Innovation Lab (NCFIL), a 16,000-sq-ft plant-based food processing and product development facility located on the 350-acre NC Research Campus in Kannapolis, NC, opened today. The facility was designed and constructed by CRB using a ONEsolutionTM approach.
Complete with state-of-the-art equipment, the facility will serve as a catalyst for plant-based food research and food manufacturing, according to CRB. NCFIL is ready to serve local, regional and global customers—including growth-phase entrepreneurs, established food companies, venture capitalists and accelerators. "NCFIL's strength is in its versatility—this facility will succeed with a wide variety of customers with unique needs and objectives," explains Dr. Bill Aimutis, executive director, NCFIL. "We'll be able to support start-up companies working to get new products to market; established companies seeking to expand product lines; and equipment manufacturers looking to demonstrate new equipment capability."
CRB used the ONEsolutionTM approach to design and construct an adaptable space to meet current and future needs. "Our biggest challenge was designing a space flexible enough to support processes and innovations that could be developed in the next 10 years, based on the processes that were planned for in the present," explains Pablo Coronel, CRB's director of food processing. "We had to focus on flexibility throughout the entire design and construction process."
From its inception, partnership has been a cornerstone of NCFIL. "CRB worked closely with the NCFIL team to define and execute a shared vision for this facility," explains Coronel. "By using a ONEsolutionTM approach, we were able to complete schematic and detailed design with real-time input on constructability from our trade partners. This approach streamlined the transition from design through fabrication and into construction."
NCFIL operates under current good manufacturing practices (cGMP) regulatory guidelines and strict food manufacturing safety practices, in addition to total quality management programs. The lab offers a range of customizable services including product research and development, pilot plant production training and workshops, and food industry consulting.
North Carolina has a rich history of converting agricultural resources into value-added products, according to NCFIL. In fact, North Carolina's agriculture and agribusinesses account for $91.8 billion of the state's annual GDP and 17 percent of all jobs, and the state is a top 10 producer in 19 commodities. NCFIL will support the development of value-added food products made from North Carolina-grown crops.
In 2014, the North Carolina General Assembly commissioned an economic feasibility study to evaluate food manufacturing's potential in the state. The study predicted that in less than 10 years, food manufacturing could contribute an additional 38,000 jobs and a $10.3 billion boost to the state income annually, if key recommendations were realized. In 2015, Governor Pat McCrory formed a Food Manufacturing Task Force with 35 thought leaders representing various aspects of North Carolina's food system to investigate how North Carolina could seek economic opportunities in this area. NCFIL was one of the key recommendations of these leaders.
Companies in this article