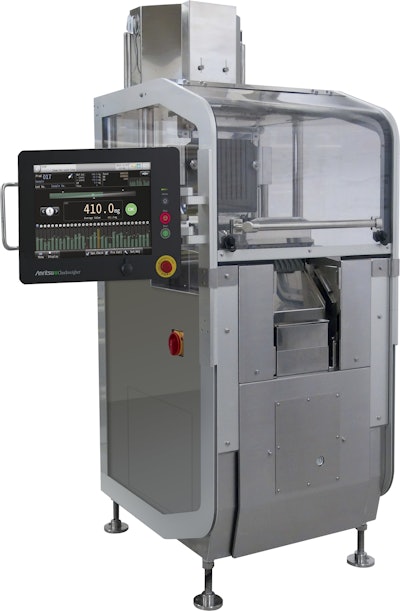 MG America, the U.S. subsidiary of MG2 of Bologna, Italy and a supplier of processing and packaging equipment, a new capsule checkweigher from Anritsu, as well as the Antares Vision TCI Tablet & Capsule Inspector.
The Anritsu Capsule Checkweigher achieves throughput of up to 230,000 capsules/hr with an accuracy of +/-0.5mg, meeting the industry's most stringent requirements. The machine's production capabilities deliver accuracy at high speeds, and feature flexibility concerning the various product shapes and sizes it can handle. Its enhanced handling technology eliminates the bouncing of empty capsules and prevents them from potential market entry.
The checkweigher's small footprint and 15-in color touchscreen interface helps provide easy operation, and its Ethernet connectivity enables real time remote data collection. It meets GMP standard and validation requirements with 21 CFR Part 11 compliance, and an inclined chassis eliminates blind spots, further preventing dropped capsules from going missing or mixing with other products. The checkweigher is designed to be easy and quick to clean, and parts changeover is tool-free. An overload protection load cell prevents breakdowns after accidental overload during changeover and cleaning.
The Antares Vision TCI Tablet & Capsule Inspector is a fully automatic standalone machine designed to inspect pharmaceutical capsules and tablets. Versatile, smart and efficient, the TCI combines high production throughput (up to 300.0000 units/hr) with great accuracy in inspection (precision up to 100μm).
Comprehensiveness is the TCI's trademark: A double-drum system manipulates products while six cameras and three analyzers acquire images of the entire surface of the products.The collected images are analyzed in real time, and the products are eventually sorted and conveyed towards the appropriate path: conform, reject, or re-check. The precise optical detector for sorting verification ensures fail-safe, reliable operation.
Defects identified on tablets and capsules include damaged edges, color deviation, dots, dirt, uneven surfaces, cracks, dents, chips, holes, drill, joints, coating defects, low imprint and poor embossing quality. Products found to be defective are automatically rejected by an air blow into a dedicated stainless-steel reject container.
The Antares Vision TCI is controlled via a user-friendly graphical interface on a 19-in. touchscreen monitor, providing intuitive operation for inspection functions, new formats creation by wizard setup, and receipts recall. Ergonomic design with a small number of parts allows very fast changeover as well as easy cleaning and maintenance operations.
Companies in this article
Videos from Anritsu - Product Inspection & Detection