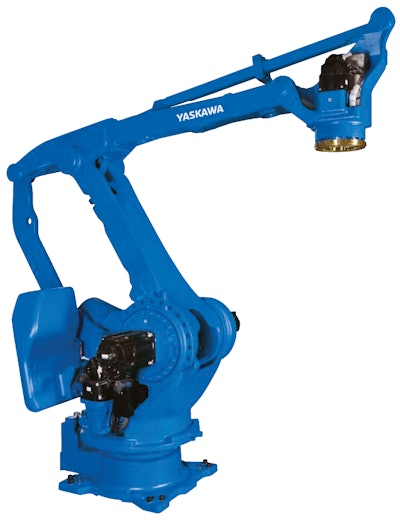 Designed to offer a 500-kg payload, the PL500 robot made by the robotics company, Yaskawa America, is created for a variety of palletizing applications, unitized loads, and other logistical tasks for end-of-line or distribution automation.
The PL500 features increased axis speeds and acceleration for maximum production throughput. It is made to offer a large work envelope and a high payload to efficiently load/unload pallets, and easily handle full layers or a variety of product including boxes, bags, bottles, and cases.
The robot is also designed with a 3,159 mm horizontal reach, 3,024 mm vertical reach, and ±0.5 mm repeatability.
Its T-axis features a 60 mm pass-through to facilitate easy connections to the end-of-arm tool, as well as a high moment of inertia to ensure unbalanced loads are handled effectively. Parallel-link construction is also meant to provide strength, rigidity, and stabilization of high moment and inertia loads, while heavy-duty bearings should provide smooth arm rotation.
A single cable is needed to connect the manipulator to the controller, resulting in easy setup and reduced expenses for maintenance and spare parts inventory. Airlines and cables are routed internally from the base to the end-of-arm tool to maximize reliability, and a cable installation tube is designed to facilitate fieldbus routing to the upper arm and/or gripper.
The PL500 robot can be floor-mounted, and brakes are included on all axes. The robot is controlled by the YRC1000 controller that is built to a global standard and does not require a transformer for input voltages ranging from 380AC to 480VAC, says the company. With a compact cabinet (598 W x 490 H x 427 D mm), the YRC1000 uses a lightweight teach pendant with intuitive programming.
Yaskawa also offers a PalletSolver software for palletizing patterns creation for mixes of SKUs, which can be accomplished offline. The software is meant to enable faster workcell deployment for complex patterns.
Companies in this article