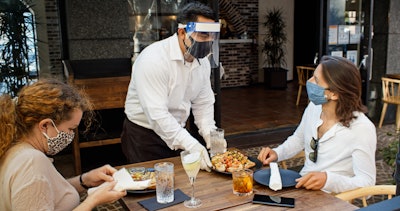 As explained in a previous study from Tetra Pak–COVID-19 and the Consumer Landscape–the pandemic has shifted consumer priorities to reflect the insecurities brought on by COVID-19, such as food insecurity and financial concerns. The pandemic has also changed how consumers interact with the food industry, increasing the demand for e-commerce and touch-free options. A LendingTree study, Americans Increased Spending at Restaurants, on Takeout During Pandemic, adds another layer of consumer interaction with restaurant businesses.
The LendingTree study–based on estimated monthly food spending derived from U.S. Census Bureau data from April 2020 to January 2021–focuses on the evolution of consumer food spending habits over the course of the pandemic. The study shows that despite demographic differences including household size, state of residence, and annual household income, Americans have increased monthly food spending by 13.9% during the pandemic, growing from $1,141 last April to $1,299 this January.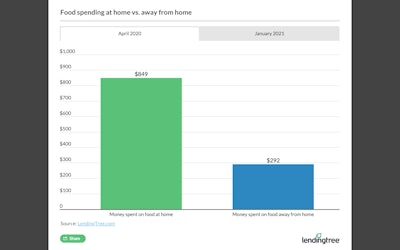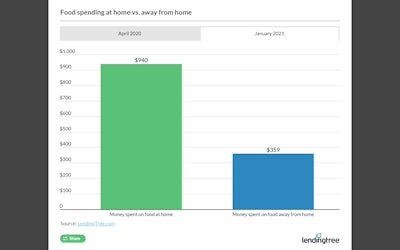 The study further breaks down this finding into food spending away from home–including restaurants and takeout–and spending on food at home. The data suggests that even though restaurants in many states have had to limit capacity or transition to takeout-only service, Americans are now reaching into their wallets to treat themselves and support local businesses.
Food spending away from home has increased by 23.1% since the start of the pandemic while households are only spending 10.7% more on food at home, though there is a correlation between annual income and the rate at which households are spending on restaurants and takeout. Those with incomes of $100,000 or more have the highest spend rate.
A Revenue Management Solutions (RMS) article, Restaurant consumer trends in dining 2021, backs up these finding, explaining that when the pandemic hit, fine dining establishments became takeout locations–or even became your local grocer in some cases. The dining room staff had to quickly learn drive-thru, and menu manufacturers made desk and table shields as well as face shields to meet the growing need to personal protective equipment (PPE). All changes that had to be decided on within days and put into action in just a few short months. These changes allowed consumers to eat out with a contactless experience surrounded by newly developed safety standards, which RMS says has changed consumer expectations for restaurants going into 2021.
Survey responses from RMS suggest that consumers expect curbside service and takeout to continue. Dr. Joel Davis, chief strategy officer for RMS, notes that delivery and takeaway kept restaurants operating in 2020. He also believes the pivot to contactless channels will allow restaurants to recover at a higher level.
"As dine-in returns, we believe that it won't replace delivery/pickup," he says. "A new audience arose during COVID, who recognize the value of delivery/takeaway from the local restaurant or favorite chain. They are likely to continue this behavior after dine-in returns to pre-pandemic levels."
Consumers also expect enhanced cleaning procedures and safety protocols to continue. This will entail restaurants using in-store signage, stating safety policies on online platforms, and provided safety information with each takeaway and delivery order.
In another webinar, Davis explains that the restaurants least affected by the pandemic have been those with a strong digital presence, who familiarize themselves with their consumers so they can stay ahead of consumer trend shifts–and even more so if they make comfort food, such as pizza.
The RMS article further states that at-home dining has been a growing trend since COVID-19 hit, demanding restaurants continue to accommodate takeout and delivery options including meal kits for celebrating special occasions at home as consumers have not lessened their desire to celebrate milestones with friends and family.
PACK EXPO Las Vegas and Healthcare Packaging EXPO (Sept. 27-29, Las Vegas Convention Center) will reunite the packaging and processing community, offering new products, technologies and solutions, while implementing up-to-date protocols for a safe and successful in-person event. Attendee registration opens in May.