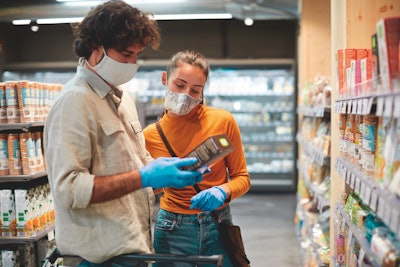 It is no surprise that the pandemic was at the forefront of consumer minds in 2020. According to the Tetra Pak 2020 Index global research study, COVID-19 and the Food Safety-Environment Dilemma, though 49% of consumers believe environmental issues are among the biggest concerns facing the world today, COVID-19 scores highest with 64%.
The pandemic is changing the consumer landscape with a significant shift to online shopping–as well as an increase in economic concerns, which went from 40% to 47% as the virus affected the economy and employment. Concerns for food safety have also increased in connection with the virus, leading to greater success for ultra-high temperature products in e-commerce and demands for solutions to increase product shelf life.
A case study in the index also reports an escalated interest in trends for health products, such as immunity-boosting foods and drinks, and an increase to 45% of European consumers wanting to add more nutrients to their diets since the start of the pandemic.
Pedro Goncalves, vice president of marketing, Tetra Pak U.S. and Canada, suggests that food companies use the following innovations to get ahead during the pandemic:
Incorporate aseptic processing and packaging to protect products longer without the need for refrigeration
Tap into connected packaging that acts as interactive information channels for end-to-end traceability to improve production, quality control, and supply chain transparency
Other content you may be interested in:
COVID-19: Food Industry Worker Safety and Industry Response, with Joyce Fassl
Processors Enhance Safety Protocols to Keep Workers Safe During the Covid-19 Pandemic
Companies in this article