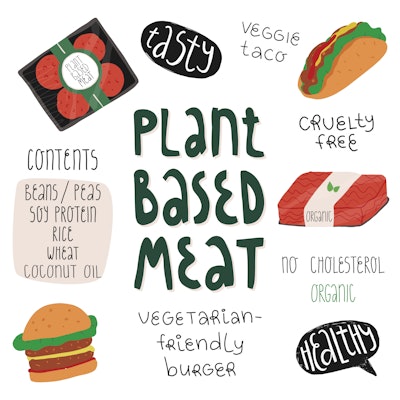 As more manufacturers look to get into the market for meat replacements, they will need to be mindful of consumer demand. So what is it consumers want?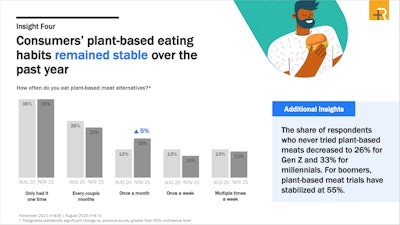 Overall, consumers' plant-based eating habits have remained stable over the past year. But Gen Z-ers, in particular, are making more of a change than older generations, according to analysts with Revenue Management Solutions (RMS), which has released its annual Restaurant Consumer Report. "They have shifted their habits from plant-based meat trials to periodic consumption," they report. "The RMS survey found a 7% increase among Gen Z-ers who ate plant-based meat alternatives at least once a week and a 9% increase among those who ate the non-meat options once a month."
But Gen Z-ers, as a group, have shifted their habits from plant-based meat trials to periodic consumption, with those eating plant-based meats every couple of months rising 9% and eating the alternative meats multiple times a week up 7%, according to the Restaurant Consumer Report. Of those surveyed, 83% were self-proclaimed moderate to frequent restaurant goers—meaning up to five times a week.
The market is on the rise, but RMS's research shows some mixed responses based on age group. According to the research, those more likely to eat plant-based meat alternatives are individuals who are:
Of the younger Gen Z and Millennial generations
Visiting restaurants frequently
Living in higher-income family households in urban or suburban areas (so likely with easier access to restaurants for frequent dining out)
Even though there are more plant-based meats available, fewer consumers are responding favorably to them, the study shows. RMS saw a 7% decrease in positive responses to the taste of plant-based meats and 10% increase in those who dislike the concept of plant-based meats. Yet, 56% of Gen Z-ers report liking the taste of plant-based meats, which is 13% more than the overall 43% who reported liking the taste. And 54% of Gen Z-ers also say they would switch to a competing brand if it offered plant-based meat.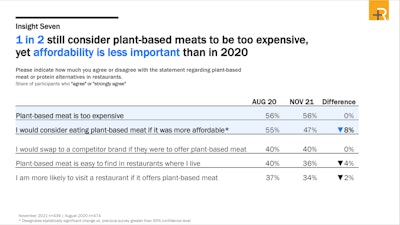 Half of the consumers still consider plant-based meats to be too expensive; they expect plant-based meats to cost the same as meat-based menu items, and some restaurants have taken note to accommodate, the analysts note. Plant-based meat producers and processors continue to look for ways to lower product cost to meet consumer expectations.
To find out more, read the full Restaurant Consumer Report.