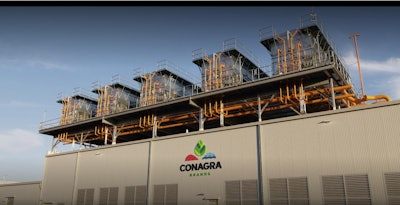 Conagra Brands today announced the opening of a new state-of-the-art, 245,000-sq-ft facility in Waseca, Minn., which will process fresh vegetables to support Conagra's frozen meals business and Birds Eye brand.
The peas and corn processed at the new facility will come from a network of nearby growers who use a variety of actions to help fight climate change, such as smart practices to save water, support biodiversity, and improve soil health. Conagra technology in the fields will monitor the plants' nutrient needs using real-time data, allowing harvesting to be accomplished in sync with the facility's production schedule and vegetables to be transported directly to the facility where they will be received, washed, and frozen within a few hours.
---
---
The facility will provide approximately 20% more capacity for processing vegetables than the 92-year-old facility it replaces. Annually, the facility will be able process and produce 120 million lb of cut and cob corn, 45 million lb of peas, and more than 20 million lb of rice. In addition, Conagra anticipates the new facility will use about 25% less water per lb of product produced than the company's previous Waseca facility.
"The significant investment in our new facility in Waseca is indicative of the strong opportunity we see in our frozen foods business," says Sean Connolly, president and chief executive officer, Conagra Brands. "Conagra is committed to investing in innovation across the company, including our supply chain. We are also pleased to make the investment in Waseca where Birds Eye has a long history."
Companies in this article