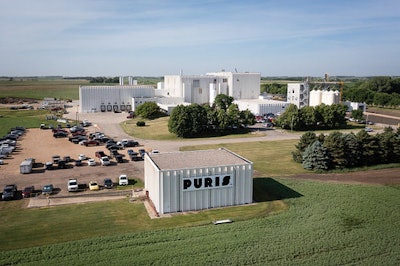 Puris, an early and innovative pioneer in plant-based food systems, has announced its new production facility in Dawson, Minn. is officially on-line. The state-of-the-art facility more than doubles production capacity for the company, cementing Puris as the leading supplier of pea protein in North America and accelerating its mission to build a sustainable food system.
The Dawson facility, which was retrofitted from an existing dairy plant, will support continued growth for Puris Proteins, a joint venture between Puris and Cargill. With the completion of the facility, Puris possesses the only vertically integrated, multi-plant pea protein production model in the U.S. It will enable the company to supply roughly 50% of North America's pea protein and do so sustainably, while also making available product that is grown, processed, and packed in the U.S. The impact is also present locally, with nearly 100 new jobs brought to Dawson and the surrounding community.
Construction to build out the 200,000-sq-ft facility was supported by an investment of more than $100 million from Cargill. The companies announced the joint venture in January 2018, with an initial investment of $25 million that was used to add substantial capacity at Puris's Turtle Lake, Wisc. production facility.
---
---
"Our investment allows Cargill, along with our partner Puris, to remain at the forefront of the plant-based protein revolution by meeting the growing demand for great tasting, sustainable, and label-friendly pea protein for both current and prospective customers in North America and across the world," says Mike Wagner, managing director for Cargill's starches, sweeteners, and texturizers business in North America. "Pea protein not only enhances our diverse portfolio of high-quality ingredients but also expands our opportunity to work with customers to make products that use a variety of our ingredients to satisfy consumers globally."
Companies in this article