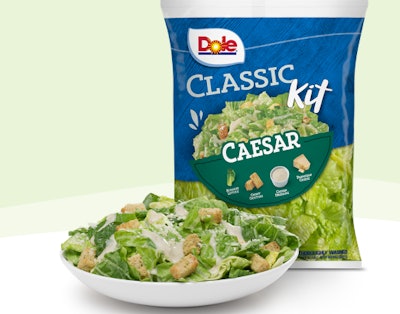 According to the CDC, epidemiologic, laboratory, and traceback data show that packaged salads produced by Dole, including mixed greens, garden salads, Caesar kits, and other types of salads in bags or clamshells, are contaminated with Listeria and making people sick.
As of February 1, 17 people infected with the outbreak strain of Listeria monocytogenes had been reported from 13 states. Sick people range in age from 50 to 94 years, with a median age of 75, and 82% are female. Of 15 people with information available, 13 have been hospitalized. Two deaths have been reported from Michigan and Wisconsin.
Recalls for the Dole packaged salads began at the end of December and are for products with "Best if used by" dates from November 30, 2021 through January 9, 2022. The recalled packaged salads produced by Dole are sold under a variety of brands, including Ahold, Dole, HEB, Kroger, Lidl, Little Salad Bar, Marketside, Naturally Better, Nature's Promise, President's Choice, and Simply Nature.
---
---
Dole collected samples from its facilities and equipment for testing and found Listeria on equipment used to harvest iceberg lettuce. The FDA conducted whole genome sequencing and found that the Listeria on the equipment was the outbreak strain.
State and local public health officials are interviewing people, or their families, about the foods they ate in the month before they got sick. Of the nine people interviewed, eight (89%) reported eating packaged salads. Of the three people who remembered a specific brand, two reported Dole.
The true number of sick people in the outbreak is likely higher than the number reported, and the outbreak may not be limited to the states with known illnesses, because some people recover without medical care and are not tested for Listeria. In addition, recent illnesses may not yet be reported, as it usually takes three to four weeks to determine if a sick person is part of an outbreak.

Companies in this article