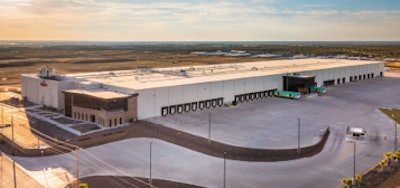 Mission Produce has opened a new mega center in Laredo, Texas, a forward distribution center and third-party logistics facility strategically positioned to foster enhanced customer service, increased flexibility, and expanded capabilities for the company's customer base.
Designed and constructed by A M King, an integrated design-build firm with expertise in food distribution and cold storage facilities, the mega center has the capability to provide packing, bagging, ripening, trucking, cold storage, cross docking, inspections, and drayage. The facility's location also enables many customers to pick up commodities at the border, positively impacting importing costs and logistics, and facilitating a more efficient supply chain.
The multi-temperature zone facility includes 10 state-of-the-art ripening rooms with the capacity for 42 pallets each, 81,000 sq ft of storage space with the potential of 6,000 pallet positions of cold storage, 36 refrigerated and four dry dock positions, 900 staging and inspection positions, and four coolers with 2,590 pallet positions.
---
---
"Opening a 12th distribution center in Laredo improves our access throughout North America, meaning we can serve our customers with ripe, high-quality fruit more reliably and efficiently than ever before," says Stephen Fink, vice president of North American sales, Mission Produce.
"We expect the industry to benefit from an additional advanced mega distribution center in Laredo, one of the nation's most significant ports of entry for imported goods," adds Ben Barnard, vice president of global partnerships and business development. "We aim to propel the industry forward by streamlining importation logistics and expediting transportation times from the border."
Mission Produce has hired 70 employees so far and expects to create over 110 new jobs in total, once the facility is operating at full capacity.
To see a video of the new Mission Produce facility, click here.
Companies in this article