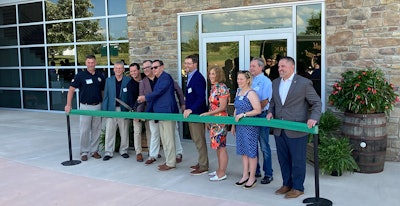 Clemens Food Group, the fifth-largest pork processor in the U.S., has opened a new 308,000-sq-ft smoked meats processing facility in Hatfield, Pa. The greenfield facility is designed with superior segregation and sanitation controls for the separation of incoming raw ingredients and finished ready-to-eat (RTE) products.
The new operation features a 4,800-ton ammonia refrigeration system to support the process. In addition, an isolated viewing corridor allows customers to view the RTE process lines. The new operation will allow the vertically coordinated pork processor, with brands such as Hatfield, Farm Promise, and Premium Reserve, to increase production to better serve its customers nationwide. 
Clemens selected Gray, a fully integrated, global services provider that specializes in engineering, design, construction, operational improvements, digital, equipment manufacturing, and real estate services, to design and build the expansion to its Hatfield campus. Gray also designed and built the company's first greenfield operation in Coldwater, Mich.  

---
---
"Clemens Food Group operates with our core values of ethics, integrity, and stewardship always at the forefront," says Craig Edsill, CEO of Clemens Food Group. "We are pleased to work with great companies, like Gray, that do the same. The Hatfield North Expansion project is key to the growth of our company and our impact on the communities where we live and work. It utilizes best-in-class quality and food safety systems and design to provide our customers with high-quality, innovative products. We are thankful to each and every person who helped build this excellent facility."

"This project is another testament to the excellence created when relationships are at the forefront," adds Stephen Gray, president and CEO of Gray, Inc. "Our team and the Clemens team are like family. Through this relationship, we were able to navigate the challenges of not only a traditional project, but also the added pressures of COVID 19, and still create a great facility." 
Companies in this article