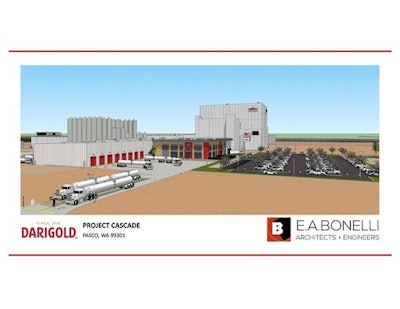 Darigold, the marketing and processing subsidiary of Northwest Dairy Association (NDA), has broken ground on a $600 million facility in Pasco, Wash. The new facility will be equipped with two specialized milk dryers and two packaging lines for powdered milk products, two butter churns, two bulk butter packaging lines, and five consumer butter packaging lines. The Pasco facility will incorporate a variety of technologies and conservation strategies that combined could mitigate more than 300,000 metric tons of CO2 emissions per year.
The facility will have the capacity to produce approximately 175 million lb of butter per year, as well as nearly 280 million lb of powdered milk products annually, including products that meet the highest industry specifications for use in the most sensitive applications, such as infant formula.
The facility's location within the multimodal Port of Pasco on the Columbia River will give it access to both rail and barge facilities, creating transportation efficiencies.
Darigold expects the Pasco facility to be operational by early 2024. The project will create approximately 200 new jobs.
---
---
"The dairy industry continues to be a key driver of the region's agricultural sector," says Joe Coote, the co-op's chief executive officer. "By adding capacity through this facility, we stand to share the bounty of Northwest dairy with more consumers at home and around the globe, and build more value for the family farmers who own our co-op. That's something that should be easy for all of us in the PNW to stand behind."
The facility was designed by architectural firm E.A. Bonelli & Associates. Miron Construction is the builder.
Companies in this article