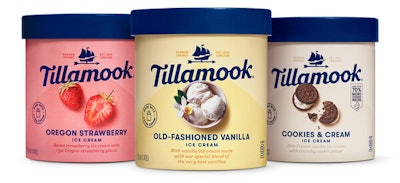 Tillamook County Creamery Association (TCCA), a farmer-owned dairy co-op and Certified B Corporation, has announced plans to open an ice cream manufacturing facility in Decatur, Ill., late next year. TCCA will spend the next 18 to 24 months updating the plant, which was previously owned by Prairie Farms.
The facility is projected to be ready in October 2024 for its first full ice cream production run, and is expected to create approximately 45 new jobs in the Decatur community.
This will be TCCA's first owned and operated manufacturing facility outside of Oregon and the company's only facility solely dedicated to ice cream production. The Decatur ice cream plant will manufacture Tillamook 48-oz ice cream, as well as Tillamook 3-gal foodservice ice cream.
---
---
TCCA currently owns and operates manufacturing facilities inTillamook and Boardman, Ore, primarily dedicated to cheese production. They will continue to operate, with no plans to reduce the production or employee base at either location.
"Consumer demand for Tillamook Ice Cream has grown exponentially over the past several years," says Mike Bever, executive vice president of operations, TCCA. "This new facility is an investment in our continued national expansion plans. We are proud to be able to expand our manufacturing footprint even further as another step toward bringing Tillamook to more fans around the country.
"Opening this Illinois manufacturing location will enable us to make more of our ice cream closer to the Eastern U.S., where demand for our ice cream is growing fast. In the last year, we've added 1.6M households and grown ice cream sales nearly 60% in the Eastern U.S.," Bever adds.