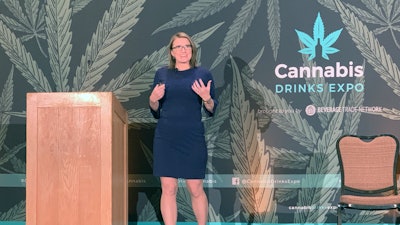 As marijuana use becomes increasingly legalized and less marginalized, one sector seen to have considerable potential is the cannabis drinks market. "So far today, the industry is making some interesting inroads, and it's continuing to grow in sophistication," says Bethany Gomez, managing director at Brightfield Group, which provides market insights for the emerging CBD and cannabis industries. "But it has not yet reached its level of potential."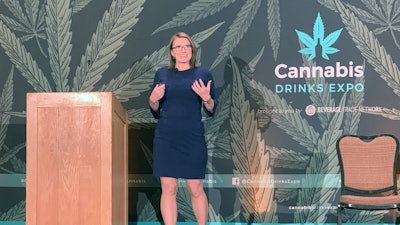 In a presentation at the Cannabis Drinks Expo this past fall in Chicago, Gomez addressed what it would take to scale the potential for cannabis drinks. Potential is considerable, she notes. In 2021, the sector accounted for just over 2% of the U.S. cannabis market overall, and 3% of Canada's overall cannabis market, Gomez says.
Who's the consumer?
To better grow the market, it's important to understand who the consumer is—and what they're looking for out of their drinks.
It's primarily the high-end cannabis consumers that are turning toward cannabis drinks, Gomez says, with a typical household income of $150,000 or more. That's perhaps not surprising, given that cannabis drinks tend to be expensive, and consumers are likely seeing them as more of an indulgence. As Gomez puts it, "This is never going to be the cheapest way to get high."
---
---
They come from stable, established households. Almost three-fourths of the cannabis drinks consumers are partnered or married, and 69% have children in the household.
That said, cannabis drinks consumers also tend to be younger. A large majority, 83% of them, are under the age of 45. In comparison, that same age group makes up 63% of the total cannabis consumers.
Alcohol alternative
This aligns well with that age group leading the charge to reduced alcohol consumption. We've heard a fair bit lately about more and more consumers turning away from alcohol or at least looking to reduce their alcohol consumption. That was something that Gomez pointed to as well, noting that 66% of Millennial consumers want to reduce their alcohol consumption. That's an even bigger story among Gen Z consumers, among whom only 38% over the age of 21 consume alcohol.
---
---
There's been a rise in non-alcoholic beverages such as premium non-alcoholic craft beers and non-alcoholic spirits. "Consumers don't just have to turn to alcoholic options if they want to consume in social situations," Gomez says.
They're looking for alcohol alternatives, and many are turning to cannabis instead. In fact, "22% of consumers looking to reduce their alcohol consumption were substituting their alcohol with cannabis," Gomez says. "This is a real opportunity to hit on that consumer segment there." The alcohol industry agrees, and has been investing increasingly in the cannabis drinks space in a bid to make up for the sales lost on the beer side of the equation.
Constellation, which makes Corona and Modelo beers, has made a massive investment, Gomez notes. For example, Constellation has a nearly 40% investment in Canopy Growth, which has begun making CBD-infused sparkling water. It's also investing in Karma, which is taking advantage of Constellation's distribution network to get its CBD water out into stores.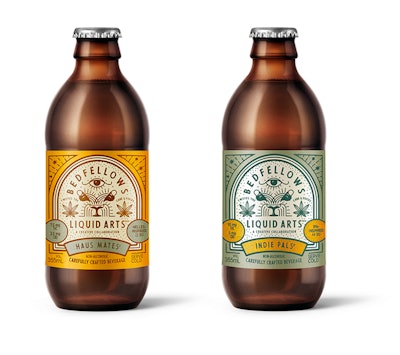 Others are starting to dabble as well, Gomez says, including AB InBev, Lagunitas, and Molson Coors. Molson Coors has just recently launched a beer-style cannabis beverage range, Bedfellows Liquid Arts, through its Truss BeverageCo joint venture with cannabis company Hexo.
Much of this investment is taking place in Canada, where—unlike in the U.S.—cannabis and its byproducts have been legalized at the federal level. But even in Canada, more needs to be done to get the industry on track.
Adjustments for better market traction
Corrections that need to happen going forward, Gomez says, are toward dosage adjustments and flavors. She emphasizes the need to think about the consumer and understand what their dosage levels are for different needs.
Some complaints are that cannabis drinks are too expensive to not provide more of a buzz. For a price aligned with craft beer or hard seltzers, cannabis dosage comes in around 2-4 mg, which makes them microdose products. It'll take several to really feel the effects of the CBD or THC.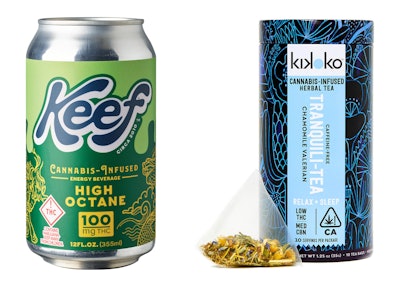 Other cannabis drinks have very high dosage levels (at a price, of course) and are designed to be more like high spirits, Gomez says. But there's not a lot in between. She urges drink companies to think more about the consumer and what their needs might be at given times—whether they're using cannabis for calm/relief, energy, intimacy, or sleep.
Flavors early on were "pretty rudimentary," Gomez says, with lemonades and iced teas taking up a lot of the shelf space. "Over the past couple years, there's been a very strong growth in sophistication," she says, noting that suppliers are beginning to get into seasonal trends and more exotic flavor combinations such as cardamom, hibiscus, lavender, and turmeric. "The high-income consumer is consuming cannabis throughout their day. This is their indulgence. There has to be something fun and indulgent; it needs to feel like a treat, with flavors that are a bit more exotic."
Although 19% of cannabis users overall have reported using cannabis drinks within the past six months, according to Brightfield, those drinks still only make up 2% of sales, Gomez emphasizes. "They're using a lot more than just cannabis drinks," she says. "They're using other products for more of their daily consumption, and using drinks on occasion. It's seen more as a splurge or fun way to spice things up in overall consumption habits."