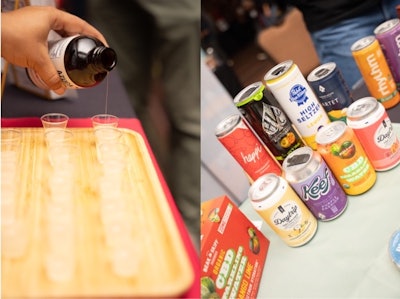 Cannabis Drinks Expo
The second-annual Cannabis Drinks Expo in Chicago attracted approximately 700 operators, manufacturers, suppliers, marketers and more for a one-day event in this emerging CPG segment built around the theme of "Growing the Category".
The expo floor gave attendees a chance to network with their peers and talk to co-packers, equipment manufacturers and ingredient suppliers face-to-face, as many nascent brands are looking to scale up production in the near future. Approximately 50 exhibitors had booths at the show.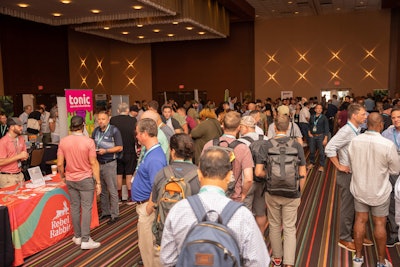 Throughout the day, attendees could visit eight thought-leadership presentations with expert speakers and panels discussing specific cannabis drinks topics aimed at educating budding brands. You may have already read our recent piece from the show about Cann's startup story presented by Cann COO Ishan Kapoor, but here are a few other sessions we attended with practical takeaway tips for operators.
Synergy with alcohol
Constellation Brands is one of the largest beverage companies in the world, ranking #10 on ProFood World's Global 50 Alcoholic Beverage Manufacturers last year, and home to household names like Corona, Modelo, Svedka, Robert Mondavi and many more.
Constellation has a successful track record of producing and distributing regulated beverages for consumers, and it's those details that Heidi Ferreri, VP, Cannabis Strategic Alliance at Constellation Brands, wanted to convey in her keynote address, showing how cannabis beverage brands can learn from the business path forged by beverage alcohol.
"Leveraging synergies with beverage alcohol is about identifying what they have in common with cannabis beverages and joining on best practices that beverage alcohol has been building over decades and tailoring it for the cannabis drinks space," said Ferreri. "In addition to complying with federal law, alcohol companies must navigate production, distribution, sales and marketing laws specific to each state in which they operate and sell their products. Cannabis players face similar challenges, but only grow more complex as more states legalize."
From a supply chain standpoint, Ferreri said both alcohol and cannabis drinks companies have common potential partners when sourcing cans, label printing, secondary packaging, point-of-sale material, and more. "With so many similarities, you can take a successful procurement strategy that builds a robust, regulated adult beverage supply chain network that can grow with your business and adjust to the types of system constraints that are prevalent today. Then when it comes to manufacturing, there are dozens of examples of alcohol companies of all different sizes that know how to make a great tasting liquid and packaging it in accordance with federal and state regulations."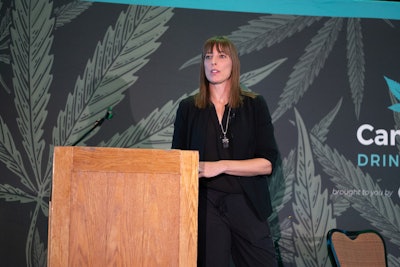 Alcohol distribution is another key synergy that cannabis beverage brands can tap into. Ferreri detailed three core distributor competencies that can be utilized: a network of trucks that carry pallets of beverages; knowledge of the different requirements around storage and cross-state transportation of a regulated beverage; and "they can be really good at retail execution because they have dedicated merchandisers responsible for trade marketing programs, building displays and managing in-store point-of-sale," noted Ferreri.
Finally, the concept of co-location—where alcohol and cannabis drinks are distributed and sold alongside each other—is something Ferreri said will become more common as cannabis legalization expands. "We'll be able to consume a THC drink in the same places where we can have a beer, wine and spirits."
During audience Q&A, attendee Jason Dayton, co-founder of Minneapolis Cider Co., mentioned that his company now sells THC-infused cider (called Trail Magic) in their taproom alongside alcohol, since Minnesota legalized THC edibles and drinkables in July. "Customers told me it was remarkable how unremarkable this was," Dayton told the audience. "People just decided which beverage they were going to choose for the day, and some people switched back and forth. It was a very relaxed, chill, normal experience."
Ferreri concluded that a synergistic mindset for cannabis beverage brands means "you're really focused on driving continuous growth by building off of yesterday's successes, whether they are yours or someone else's. Leveraging synergies really opens up the potential to not just take you where you want to go, but to take you even further and help you get there faster."
Deciphering demographics
Another session featured a panel of experts discussing trends in cannabis consumption demographics. One graphic showed the male/female split for types of cannabis edibles and drinkables consumed (see chart below) with approximately 60% male and 40% female choosing cannabis beverages.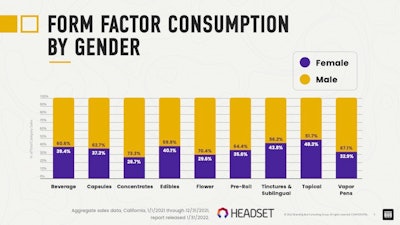 "You might think, 'Okay, I'm starting a beverage brand, I'm only going to look at what's happening with beverages.' But it's important to take a holistic view of all the categories because then you'll know if it's an anomaly, or if it's something that's prevalent it in other places," explained panelist Adriana Hemans, VP of strategy at market research firm The ISA Group. "What's interesting about this chart is, if you look at flower and concentrates, it's heavily male dominant, it's almost three-to-one men outspending women. If you look at tinctures and sublinguals, it starts to even out a little bit. Topicals is almost dead even and beverages are almost 40% women."
The panel also discussed what drives people to consume cannabis edibles and drinkables (see chart below) and how those drivers can be subcategorized as additive or subtractive. "Additive would be, it's going to enhance my experience, to help me socialize and have fun. Whereas the subtractive experience is you're taking something away, you're taking away pain, or you're taking away stress," said Hemans. "We can see from the chart that there's already sort of a bifurcation based on gender lines."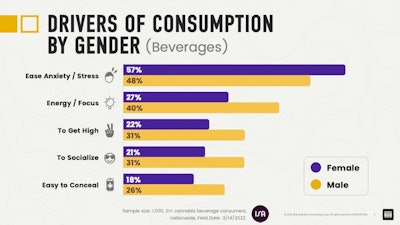 Based on this data, the panel discussed whether cannabis drinks manufacturers should focus on creating products that appeal to specific male or female demographics, and concluded that people's behavior changes from day-to-day, and consequently, their reasons for consuming shift as well.
"I'm a female consumer of cannabis, and I'm not any one thing all the time," said panelist Allison Disney, partner, business strategy at Receptor Brands. "Sometimes I take a five-milligram gummy at night to sleep, sometimes I take a two-and-a-half milligram mint in the middle of the day, and sometimes I take 20 milligrams before I go to Lollapalooza. So thinking about your consumer audience in a binary definition, regardless of gender, age, generation or geography, I think it's a disservice to your brand in terms of understanding who you're really appealing to and the reasons they're connecting with it."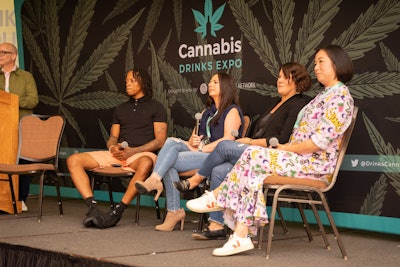 Hemans concluded that a main takeaway for brands in the audience should be "what's trending now could be totally turned on its head in a couple of years. It's important to always have your eye on the data, be flexible, and not get married to one strategy."
Advice from Boston Beer
Representatives from The Boston Beer Company—Seng Robertson, technical director, cannabis R&D, and Cailey Greenberg, lead counsel, cannabis—offered advice for attendees from a manufacturing and legal standpoint when launching a cannabis beverage brand. Boston Beer is known for its flagship Sam Adams brand, but also is a player in the cannabis beverage space with its infused TeaPot ready-to-drink cans, released earlier this year in Canada with 5 milligrams of THC per 12 oz. can of iced tea.
Packaging counts
"Compared to 2018 when the industry was starting, we now know that cannabis is degraded by light and oxygen, THC will degrade faster than CBD, and sometimes it sticks to the can liner. So those are things you need to think about with packaging," said Robertson. "Also, packaging is how you say hi to the consumer before they take a sip. So really put some thought into the imaging and branding you want to convey. And, as you know, cannabis beverages need to be produced in a dedicated cannabis facility, so take a close look at all those factors and how they work with your current capabilities for packaging."
Be compliant
"Make sure your packaging is compliant. There's a lot of nutrition label and color restrictions for bottles versus cans, and whether it has to be child resistant. You have to be complying with all of those factors as you're making your products," Greenberg said. "From an overall manufacturing standpoint, get your legal representatives involved at the very beginning, because you don't want to go down the road of developing a product, spending time and money purchasing ingredients and materials, and then find out you can't legally make that beverage. So, it's worthwhile to engage with regulatory to find out what you can and can't do from the start."
Target customers
"This is a very new category, so you might not want to define who the consumer is too early. You want to make a beverage that appeals to a broad consumer base, especially since this is a growth category and not really tied to one specific consumer. It's important to know your consumer and what they want versus who that customer is sometimes," Robertson explained. "You can also confuse consumers by having too much going on with your product. So, understand what potency they want, what occasion they're using it for, where they might be consuming the beverage, what flavors they're looking for, and what format they want their beverage in."
Greenberg added that "if you're putting a product out there, you should inform the consumer what your intention is. Should the product be used during the day or at night? Is it a sleep product? Does it have more CBD versus THC? Only make product claims that are supported by scientific evidence—not your own personal panels. Don't add a claim like, 'You'll feel a buzz in 15 minutes and an hour later you'll be fine,' and then the customer gets behind the wheel and drives. Be very clear with how you're talking about your product."
Listen to your sales team
"Our sales team will come back after speaking with distributors and let us know what else is coming to market. So, if distributors tell them, 'Oh, you know what, in the fall, we're going to be carrying four new tea brands, so we're not really interested in taking on a fifth at this time,' then you can pivot your manufacturing plans and launch a coffee or wine or whatever, and use those market insights that the sales team is sharing with you," Robertson said.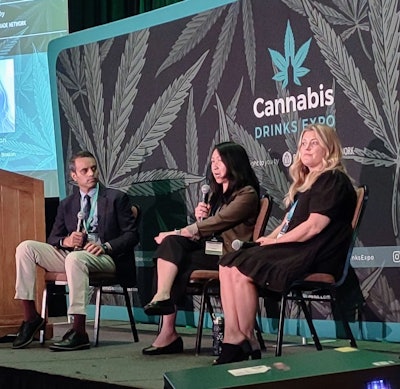 Manufacturing partners
"You are probably going to have a different perspective than your co-manufacturer about what the quality of your product should be," noted Greenberg. "If your name is on it, you're going to have a standard and you want to ensure that your co-manufacturer meets that standard. You want to spell it out clearly if it needs a certain level of sweetness or something else and write that into the contract. Then, make sure someone is testing your product before it goes out, and that it's meeting your standards. Include a term in the contract that says something like, 'We get the final say as the brand of the beverage,' or similar verbiage."