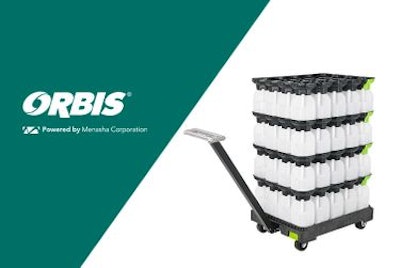 To fulfill retailer demands for improved consumer experience and efficient store operations, ORBIS Corporation, an international provider in reusable packaging, has demoed at PACK EXPO Connects its XpressBulk System–a fully reusable, retail-ready, one-touch merchandising system designed for retail deliveries. This portfolio of products is made for small-format pallets, mobile pallets, and bulk merchandising systems.
The XpressBulk Milk Delivery System is designed for the transport of fluid milk from truck to retail cooler with one touch, resulting in quick unload times, allowing associates to focus on serving shoppers or fulfilling e-commerce orders for consumers. XpressBulk can also be customized for a wide variety of high-velocity grocery items, with dolly and trays designed to fit the product being transported.
This system is comprised of a dolly, removable handle, and four plastic contoured trays. It is made to minimize physical labor at retail and streamlines merchandising. First, by the dolly allowing for easy transport off the truck into the cooler. Second, by the system, once placed in the cooler, requiring no unpacking or additional touches as consumers can shop directly from the XpressBulk system.
In addition, off-loading and bulky material handling equipment are no longer needed in the retail setting with this system. The company says the dolly's condensed height should allow for the ability to cube out merchandising coolers, create space for additional SKUs, and ultimately increase sales.
After use, the XpressBulk Milk Delivery System is made to provide storage and return efficiencies. Its trays are designed to collapse into one another and the dollies can be stored on top of each other for optimal space in backrooms. Color-coded trays act as visual cues to employees for efficient nesting for return trips. The XpressBulk Milk Delivery System is also designed to interface with standard material handling equipment.
To view the demo, click here.
Companies in this article