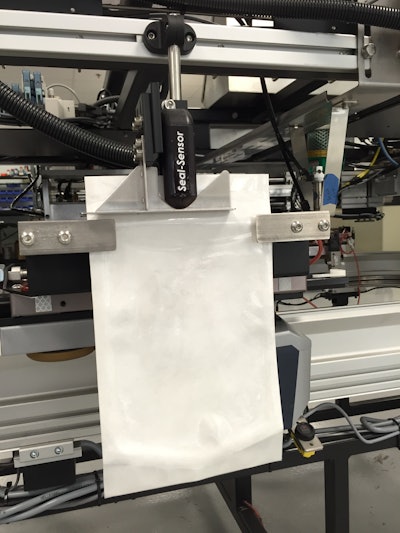 Photo courtesy of PTI.
Seal testing doesn't have to be destructive, time-consuming or subjective. PTI – Packaging Technologies & Inspection's Seal-Scan and Seal-Sensor equipment use ultrasound technology to test and analyze the seal integrity of pouches and flexible packaging in a noninvasive manner with repeatable and reliable results.
Both the Seal-Scan and Seal-Sensor pulses a noncontact, airborne, ultrasonic focused beam of sound through the seal area. The patented technology produces a linear scan analysis of the seal area in seconds without destroying the packaging to detect defects, such as wrinkles, inclusions, weak seals, channel defects, misaligned seals, and incomplete and missing seals. The technology works on various medical, pharmaceutical, and food packaging, regardless of color, transparency, print, surface finish and porosity.
According to the company, its ultrasound technology is not as destructive as a peel strength test, which can destroy packaging and waste product, and is more reliable, less time consuming, and less costly than manual visual inspection.
"Ultrasound is one of the only technologies that is telling us what the quality of that physical bonded nature of the seal materials are," says Oliver Stauffer, CEO of PTI. "So it's really physical inspection of the field quality."
For consumer packaged goods companies that want to inspect and test final packaging seals during production, the Seal-Sensor can be integrated into a packaging line. A single linear scan (L-scan) of the pouch seal takes less than one second and produces a pass/fail result as well as quantitative, traceable data. If the system detects a seal defect, the product is immediately removed from the line.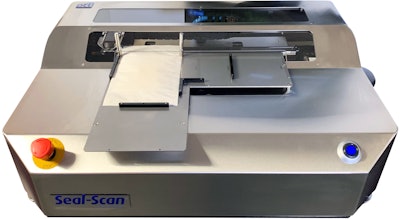 The Seal-Scan, on the other hand, is designed to inspect and analyze pouch seals offline. For example, a company may want to use the Seal-Scan in a lab environment where it is testing various packaging or to test packaging during changeovers. The Seal-Scan uses advanced digital imaging software tools for process control to provide in-depth seal analysis. In addition to offering an L-scan, the Seal-Scan also provides a C-scan (compilation of multiple scans along the x and y axes of the seal area) for detailed, high-resolution seal analysis, producing pixel by pixel evaluation of the seal. See the Seal-Scan technology in a video here: https://www.profoodworld.com/home/video/13766017/inspection-technology-offers-indepth-seal-analysis
"The L-scan is what we would perform inline that's just that single pass of the seal, where we would produce just 500 data points of the seal quality. And so, it's a linear scan down the length of the pouch," Stauffer explains. "The C-scan is just multiple L-scans that are line by line down the pouch that build an image of the pouch seal.
"With the C-scan, you can actually see the seal, see the weak spots or hot spots in the seal and understand that seal," he adds. "The benefit there is that you can really understand where the challenges or weaknesses are in the seal. The C-scan though, you really can't do it in the production line or inline unless you have time to do it. It takes 15 seconds to do a C-scan. Whereas an L-scan is a very fast, quick scan down the seal."
Companies in this article