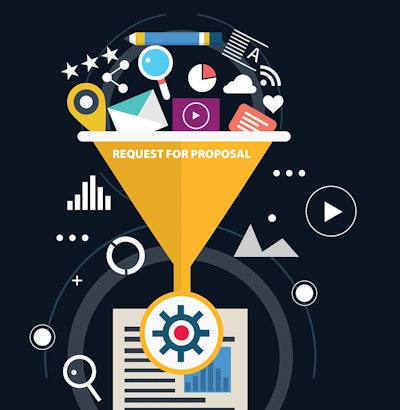 Image courtesy of PMMI's OpX Leadership Network.
Achieving vertical startups of packaging and processing equipment more consistently and effectively is no longer aspirational. It is a necessity. The request-for-proposal (RFP) process, from its inception through completion and evaluation, is the foundation of success in the project-delivery process and essential for achieving a vertical startup.
Consider the importance of vertical startups to the consumer packaged goods (CPG) manufacturer: Time is money. The sooner a CPG is operating new equipment at optimal performance, the more production time it has to meet marketplace opportunities.
The RFP has historically been well-intended, conveying the CPG's vital requirements. Too often, however, the RFP process lacked consistency, clarity, and a thorough explanation of required critical expectations. It is both an intracompany and an industrywide issue.
As a result, original equipment manufacturers (OEMs) were too often making assumptions in response to RFPs. Therefore, CPGs were not getting what they wanted, when they wanted it, or at the price they wanted. Project turmoil and rework resulted, leading to many unsuccessful projects, much less achieving vertical startups.
In the spring of 2018, PMMI's OpX Leadership Network published the long-awaited RFP Guidelines for the CPG Industry and its accompanying RFP Process Template. These documents have proven invaluable to both CPGs and OEMs. For the CPG, having a consistent preparation process has enhanced the clarity of customer expectations and requirements while minimizing important information omissions. Complete and timely responses from the OEMs with greater clarity are now resulting in more precise quotes.
CPGs now have the resources, through the OpX best practices for capital-expenditure (CapEx) projects (RFP, total cost of ownership, factory acceptance test) plus other OpX technical guideline publications, to improve consistency in communicating their project requirements, thus buying and installing what they want, when they want it.
In a time of considerable uncertainty, a constant you can count on is PACK EXPO International and Healthcare Packaging EXPO. PACK EXPO this November is taking place, either as a live and virtual event combination, or an all-virtual event. Learn more at https://www.packexpointernational.com.
Companies in this article