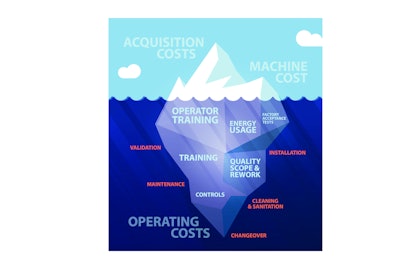 When purchasing equipment, it is absolutely all about the acquisition and operating costs (packaging and processing equipment) and not just the price (tip of the iceberg). This was a unanimous perspective of the original 25-member team of consumer packaged goods (CPG) companies and original equipment manufacturers (OEM) writing and publishing the Total Cost of Ownership Playbook and Checklist.
This foundational document, written by industry for industry, was released May 2015 by PMMI's OpX Leadership Network. Since then, more than 5,000 individuals have downloaded the documents, and countless others have participated in conference or virtual settings to discuss and better understand total cost of ownership (TCO).
What have we learned in these past five years about TCO?
Three key experiences stand out:
1. Change is hard. Consider the various needs of your internal stakeholders: finance, procurement, c-suite, operations, maintenance, etc. Now add your external stakeholders, namely the OEMs. It's a big task to engage all of them to embrace this new TCO process. Each constituent has definitive benefits culminating in driving additional value to their organizations. Just like all change management, TCO is a journey that has transformational results for the users when successfully implemented.
2. Bad decisions from bad data. The decision-making process is only as good as the data you are given. No one has the luxury of time or budgets to revisit capital expenditure decisions. The TCO process enables an engagement opportunity to better understand the value of product decisions, whether an innovative equipment solution, or new suppliers of proven technologies, or collaborating with partners toward value. engineering. All of which results in better stewardship of the company's resources.
3. TCO applications feedback. There has been ample opportunity for feedback, and the conclusion that an update to the original TCO publication is timely. In the next few months, the new and improved TCO playbook will include:
A user guide with examples and leadership guidance to facilitate its ease of use.
TCO scope will be a new section that will provide guidance for conveying the context, purpose, and metrics for the equipment selection.
A TCO workbook (in Excel) that will be much more user friendly, secure, and customizable to the company's requirements.
Companies in this article