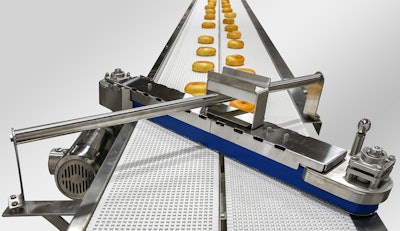 BCA
Conveyors are the ubiquitous and vital equipment that winds around a food manufacturing facility, shuttling ingredients and materials through each stage of manufacturing until completion.
"Conveyors are really the lifeblood of any food operation," says Nate Tennant, vice president of sales and marketing for Boston Conveyor & Automation (BCA). "Without conveyance, you can't move products along the line to the end of the plant. Conveyance systems are the core of everything else done in a facility, whether it's packaging, cartoning, or labeling."
For those beginning their careers in the food and beverage manufacturing industry, many conveyors might look similar, but not all conveyors for dry processing can handle the same workloads. For a back-to-basics refresher on this important aspect of processing baked goods and other dry foods and ingredients, we spoke with Tennant and Jeff McLean, automation sales engineer at BCA, which designs and integrates material handling and automation systems for food manufacturing and other industries.
---
---
Choosing a conveyor
Conveyors for dry processing come in more than a dozen configurations, including modular plastic belt conveyors, tabletop conveyors for small or delicate items, conveyors with fabric or polyurethane belts, vibratory conveyors that shake and stratify tiny items like nuts, pneumatic conveyors that use compressed air to move powders or granules, plus flighted, wire mesh, chain, disc, and screw conveyors, each designed for a particular dry processing task.
"The conveyor someone chooses is dependent on the product they're producing and what speed they're trying to move their materials," Tennant says. "If you purchase the correct equipment at the beginning, generally that equipment is going to last a lifetime. Even as you reconfigure lines, that equipment can be reused or joined to an existing line to accommodate growth."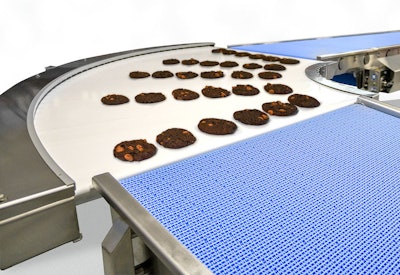 When buying a conveyor for dry processing or moving finished baked goods like bagels and cookies, McLean adds, a crucial concern is: What will it do to a food product? "Whatever that food product is, you don't want a conveyor to break or crush it," he says.
Food safety focus
Equally important to the type of conveyor purchased are its food safety capabilities. "The cleanliness question goes without saying because, obviously, if you're using the wrong kind of conveyance that is susceptible to contamination, you'll get in trouble right away," McLean says.
For dry processing in particular, conveyors have traditionally been made with fabric belts that can be wiped down. However, washdown conveyors with polyurethane belts are becoming more common, McLean says.
"On the dry food side, like bakery, those manufacturers historically looked for conveyors with wipedown or blow-clean capabilities to remove peanut allergens and those kinds of things that have plagued the industry. Those contaminants can't be allowed to cross over to another product," McLean explains. "But with a cloth belt, you can wash and sanitize it the best you can, but still might have an allergen or contaminant within the belt. So today, more of those bakery and dry foods entities are going with conveyors that have a washdown capability."
One of the reasons washdown conveyors have become more popular in the past decade, according to McLean, is the evolution of modular plastic and polyurethane belting, allowing operators to replace fabric belts. "Originally, cloth belting could go around tight nose bars, while urethane belting couldn't at first, but now it can," he says. "Also, the initial cost of urethane belting was more than cloth belting, but the extended life with urethane belting far exceeds the life of cloth belting. When manufacturers realized they didn't have to change urethane belting multiple times a year, they understood it's cheaper in the long run to use urethane belting plus have a more sanitary situation because it can be washed down."
Energy savings and automation
Sustainability and energy savings are also key considerations for manufacturers looking to purchase conveyors for dry processing. Conveying equipment can consume up to 50% of a facility's energy usage and account for up to 70% of an electrical load in an industrial facility, according to material handling association MHI. "Fortunately, today's conveyors are far more energy-efficient than conveyors produced just five years ago, due to advances in motors and motion controls," McLean notes. "We can do more with less than in the past."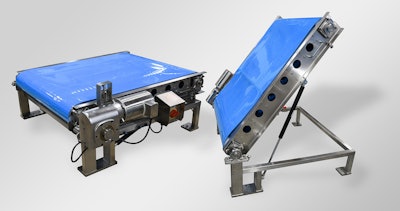 Automation on conveyors is also allowing producers to do more with less, particularly when it comes to the ongoing labor shortage. The knowledge needed to operate and maintain a conveyor today has been made easier as a result, as well as the learning curve for new employees.
"There's some basics to learn, but it's pretty straightforward today," Tennant says. "When you get into more complicated commands and automation options, there are things you have to be capable of and understand, but the basic command systems, they're pretty straightforward. In fact, if anything, they're probably easier today than years past because of the advent of control systems that are employed now."
---
---
Room to grow
For new food manufacturers scaling up their dry processing operation for the first time, the right choice of conveyor equipment can help a company meet its revised production and sales goals. But what happens to that conveyor equipment when it's time to grow again? Particularly if there's little room in the facility for a major expansion? McLean says to plan for this scenario long before it happens, and to use vertical space in a facility if the footprint is limited.
"Conveyor lines can take up a lot of space in a plant, but space savings can be achieved through overhead conveyors or other design implementations," he says. "It is crucial that the overall conveyance be considered from the very first plan layouts. This will save time and money in the future."
Companies in this article