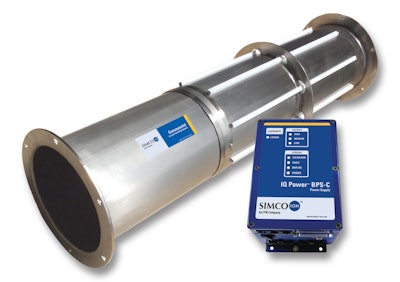 The Simco-Ion IQ Power BPS-C upgrade allows advanced monitoring and control of static eliminators located within the Simco-Ion Conveyostat system. The new system drives efficiency gains for converters by intelligently managing the ionizers within their trim systems.
When connected to the IQ power control station, the BPS-C allows the static elimination system to communicate directly with a PLC via one of six supported protocols. This enables information, such as bar cleanliness, ion output (in mA), and ionizer status, to be reported and recorded at the PLC. The BPS-C is backward compatible with all Conveyostat systems manufactured after 2015. Older systems are upgraded via easily replaceable static bars inside the Conveyostat. This means that high-performance static elimination is guaranteed throughout the life of the trim system.
Conveyostat systems are designed to provide in-line ionization for neutralizing static charges on materials passing through pneumatic conveying systems to prevent them from becoming jammed. The BPS-C, which powers the Conveyostat, was designed to bring static elimination for these systems into the 21st century.
"Our customers made it clear to us that the efficiency gains driven by new trim systems are too easily defeated by the poor performance of the static elimination systems," says Kevin Coldren, global product manager for Simco-Ion.
The BPS-C upgrade is easy to install, adds a predictive element to the static system, and can deliver this information where it can be acted on.
Companies in this article