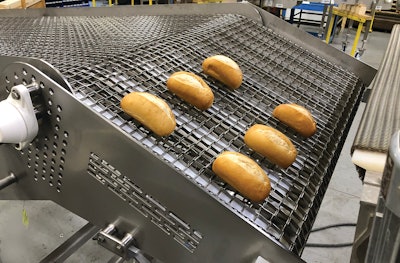 The Multi-Conveyor sanitary, food-grade, stainless-steel wire-belt conveyor with a pivoting discharge end dumps batches of rejected bakery product from proceeding down the line. Replacing an existing transport conveyor, the section retrofits seamlessly into production layouts.
The pivoting end comes down to convey off a bad batch or group of bad product into a tote or bin. When that group is done being rejected, the discharge end pivots back up again.
A pneumatic air-operated box enclosure houses controls for the air-actuated reject to pivot in the up or down position. A manual override selector switch allows an operator to pivot the discharge on demand. The electrical enclosure is mounted for an operator to easily select automatic or manual override as required.
To minimize particulate accumulation and promote easier cleaning, stainless-steel, hygienic, articulating, adjustable pad-style feet complement the sanitary design. The washdown system features ground and polished welds throughout, welded internal frame spacers, and special sanitary floor supports. Bearing caps keep grease from gathering inside, while cleanout holes and an open mesh top enable spraying water all the way through the conveyor.
"We have cleanout holes so you can't get your hands or fingers in there for safety reasons. We have a return boot plus a support for the chain. When the section drops downward, the conveyor will clean itself out," Dennis Orseske, estimator, Multi-Conveyor says. "We have a sanitary adjustable foot which is very unique. Bossed and no threads are exposed whatsoever."
Companies in this article