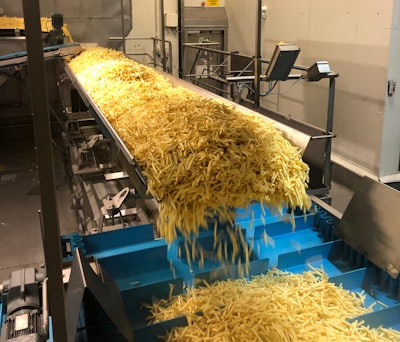 This content was written and submitted by the supplier. It has only been modified to comply with this publication's space and style.
The Key Technology reversible Zephyr horizontal-motion conveyor moves product with minimal bounce to protect product quality and reduce noise. Equipped to flow in either direction, the reversible Zephyr increases production line versatility while improving sanitation and minimizing maintenance.
The conveyor can be used for frozen bulk foods, including potato products, fruits, vegetables, meat, and poultry, as well as dry products, such as potato chips/crisps, nuts, and cereals. Its motion profile gently slides and conveys product with no segregation or stratification, and reduces product damage and the loss of coatings, including seasoning, batter, and certain types of oil.
When integrated with pneumatic controls on the production floor, the unit allows processors to change the direction of product flow with either the push of a button or automatically if fully integrated with the line. It can be configured to separate a single product stream to two side-by-side machines or divert a single stream to two different downstream production lines to produce different products.
The conveyor's construction helps improve sanitation, simplify cleaning, and reduce maintenance. Its drive system requires no timing setup and can be located in any position below the bed to support seamless integration with other equipment in the line.
With a bed width and length that can be tailored for individual customer applications, the conveyor can be equipped with a variety of options, including slide gates for scale feed distribution, a discharge to enhance multi-head weighing, or a bias to spread product when feeding downstream systems. It can also be configured with a stop-start mode for scale feeding or product distribution.
The reversible capability is available on new Zephyr conveyors and as a field upgrade for installed systems.
Companies in this article
Videos from Key Technology, Inc.