Photo courtesy of TruFood
As a co-manufacturer for the nutrition and protein bar market, Pittsburgh-based TruFood provides a range of processing capabilities—from mixing, extrusion, and slab forming to enrobing, inclusions, topping, and decorating, along with fully automated wrapping and display packing.
TruFood collaborates with startups and established brands alike to develop and produce nutrition bars to be sold at retail and club stores throughout North America and Europe, as well as through online distributors. It's a market that has taken off tremendously, expected to grow from $4.66 billion in 2019 to $7.03 billion by 2027, according to Fortune Business Insights.

That growth prompted TruFood to launch an expansion project beginning in 2019, to boost its manufacturing capabilities to better serve the increasing customer demand. High on the list for improvement was the company's ingredient delivery system. It was a multi-step manual process that required significant time and labor to prepare and transfer fine and coarse ingredient powders and inclusions such as chocolate chunks, soy crisps, and cookie pieces to the mixer.
TruFood required an automated ingredient transfer solution that would increase yield and improve line efficiency, but it also needed to guarantee food safety by reducing the risk of allergen cross-contamination between changeovers for different product ranges. What they found was Luxme's SaniLux Tubular Chain Conveyor, which could not only efficiently transfer screened and weighed powders and inclusions to the mixer, but also greatly reduce the time needed for a sanitary changeover. "Their willingness to work within our constrained space requirements also impressed us," says Mike Berko, project engineer for TruFood.
Changeovers in about 10% of the time
Though efficient changeovers might be important for any number of food producers, they are particularly so for co-manufacturers, which tend to switch from product to product quickly, depending on the ever-changing needs of their customers.
"As we speak, I have a changeover going on somewhere in our company," Berko comments. "We have 13 production lines, so we're constantly adjusting, whether it be production schedules, customer needs, their orders, whatever it may be. So we go through quite a few changeovers. It's something that we've gotten good at. But any time we come across something that'd be helpful to speed that along is obviously a value to us."
Changeovers become more complex when dealing with allergens such as whey proteins or peanuts. As a producer of nutrition bars with a wide range of certifications and claims—including kosher, non-GMO, organic, halal, gluten-free, fair trade, and sugar-free—TruFood takes its commitment to avoiding allergen cross-contamination extremely seriously. To ensure proper sanitation, typically everything needs to be fully broken down to expose all product surfaces, Berko notes. "Everything will need to be validated, all food contact surfaces get swabbed and checked for proper cleanliness and removal of the allergens," he says.
Sanitary design and ease of cleaning were critical as TruFood considered a more automated conveyance of its ingredients. With the kinds of allergen scenarios TruFood often deals with in its changeovers, the SaniLux conveyor, with automated clean-in-place (CIP) technology, has the potential to go from what was a multi-shift clean to just hours, Berko says.
"We don't have to break down the system, which is a huge benefit of the clean-in-place technology. We can go from dirty to clean in just over an hour," he says, also commenting on other benefits of not having to break the system down. "The benefit of not having to remove components, with the potential for them to get lost or reinstalled improperly—it's really adding a lot of value to our process."
There was some apprehension from TruFood's food safety team about just how effectively the SaniLux conveyor could clean itself in CIP mode—whether it could remove allergens and bacteria to TruFood's standards on a consistent and sustainable basis.
"When we did the testing in Montreal at Luxme, one of our quality managers came with me to witness those tests, and actually performed swabs on the equipment there. That did help things once we got everything back here and were able to run through a couple of cleans," Berko says. "It's not something that we worry about. We're very confident in it."
Automatic conveying
The conveyor itself uses a fixed drive and tension assembly, which automatically tensions the chain continuously during the process and regulates it according to friction, product flow, and variation in atmospheric/product temperature. Capable of 300, 500, or 1,100 ft3/hr capacities, the system is suited for the automatic conveying of all types of food, at any stage of receiving, processing, and packaging.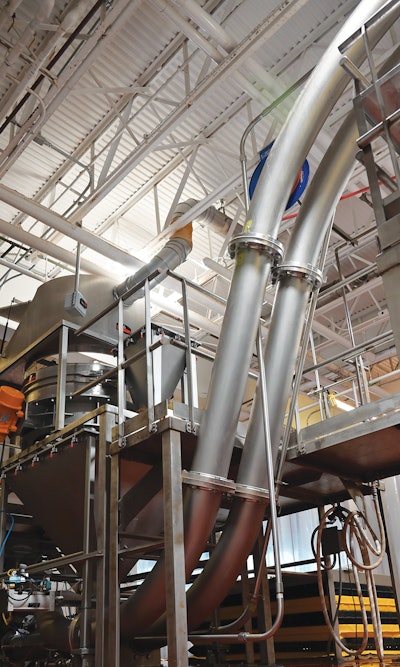 The SaniLux's enclosed chain-in-tube construction creates a sealed conveying solution, eliminating waste spillage and the risk of external pathogens or allergens entering the material flow to the mixer. "This increases confidence in product integrity during the dry ingredient processing function, as well as reducing risk to personnel," Berko says. "The chance of water spillages and associated slips and falls, or contact with harmful chemicals during sanitation, have been eliminated."
In addition, the design of the SaniLux conveyor is inherently gentler to the materials it's conveying, Berko notes, meaning ingredients retain their size, shape, and appearance, and are delivered to the mixer intact. "There are essentially pockets that the product rides within inside the tube, so it's not tumbling around; it's not being agitated," he says. "It's just kind of sliding along inside the pipe until it's discharged."
The inside of the pipe is polished so that it's very smooth, explains Rick Leroux, Luxme's vice president. "There's very little abrasion associated with moving that product over the pipe surface to the outlet," he says. "You have a product that basically is received by the conveyor in a natural state and is discharged from the conveyor in its natural state."
The conveyor transfer runs at a relatively low speed compared with some conventional technologies such as pneumatic conveying, Leroux adds. "The running speed here is anywhere between 40 and 60 feet per minute; we're not in the hundreds or thousands of feet per minute," he says. "So, if we have a change of direction, it's very smooth, it's very calm, and it's very gentle."
The slower speed does not affect TruFood's throughput, however, because the system was designed to optimize the diameter of the pipe, Berko says. "So that allows the volume to keep pace with our production."
Pandemic timing
Like so many of the case studies we've talked over the past year or so, TruFood was faced with installing the system during COVID-19 lockdowns. The SaniLux has been running successfully at TruFood's facility since its installation in May 2020, just as the pandemic was spreading around the globe. Berko had travelled to Montreal (where Luxme is headquartered) to do some in-house testing of the system just prior to COVID. But by the time TruFood was ready to take delivery, international borders had been shut down, and Luxme engineers were prevented from traveling from Canada to be on-site for set-up and commissioning.
TruFood had to rely on virtual rather than in-person help from Luxme for installation. TruFood's in-house engineering team completed the installation work, and Luxme did the virtual commissioning. "It went remarkably smooth," Berko says. "Luxme had prepared a very detailed package with installation directions, and they were available pretty much every step of the way. If we needed anything, we were able to get in contact and sort out any issues that we came across."
It went so well, that Berko is not particularly opposed to doing it the same way again. "I understand the world's changing, and it's probably something we're going to see a lot more of," he says. "There is a lot of value in having someone with experience physically with you to do these things, but I would be less apprehensive to do a virtual install."
At the end of the day, the SaniLux conveyor has improved TruFood's ability to win new contracts for its business through increased uptime. "It's allowed us to confidently plan for increased line availability," Berko says. "We've been able to plan for that, and we've been able to deliver on that."
Companies in this article