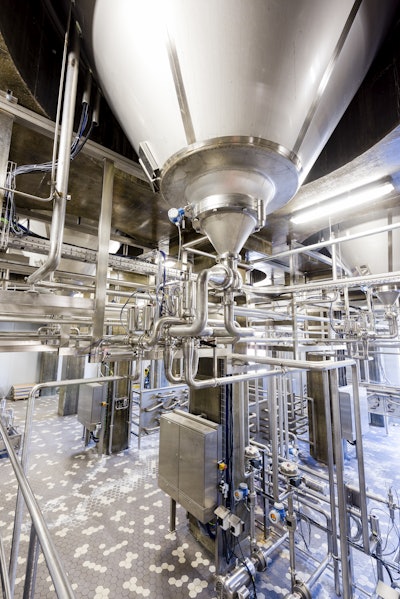 Shutting down an older plant and expanding an existing newer facility can save money by consolidating management, labor and overhead costs. Aging facilities and the need for increased capacity have been the main reasons why food and beverage manufacturers implement plant expansion projects.
Every company wants to get the maximum performance out of existing production lines and existing infrastructure, says Mark Redmond, president of Food Plant Engineering, LLC. When food and beverage processors desire to be first to market with a new product, they must find the right partner to help them execute the proper manufacturing layout and building design.
But in today's "get it done now and get it done more efficiently" manufacturing environment, there are a host of requirements and compelling reasons to complete a successful plant expansion project. Hygienic design, automation, increased operational visibility and improved energy efficiency are just a few of the factors that must be addressed.
Due to new regulations, food plants are required to become more sanitary, says Jeff Lewandoski, project manager for Dennis Group. "A lot of times within their existing footprint, that's just not possible," he states.
In order to meet a customer's need to fast-track projects, Lewandoski says he has learned how to multitask more than he thought was possible. But he asks, "How do we work safely yet still achieve the end goal?" Lewandoski suggests looking holistically at the project: "Do a high-level design, come up with a preliminary capital cost estimate, define what this project might look like and develop a success criterion."
A collaborative team environment, including the owner, architect/engineer and construction manager, is essential, says Tammi McAllister, food and beverage core team leader and associate at CRB. Transparency to all costs and schedules, a constant focus on team interaction, mutual respect fostered through a tight-knit team and an extended presence of the design firm through construction equals success, she adds.
Properly defining the scope of the work and determining the impact to the building infrastructure are key elements of a plant expansion project, according to Todd Allsup, vice president of sales for Stellar. "A lot of successful projects now hinge on the pre-planning work," he says. Stellar focuses on developing a project charter for its clients, which is a detailed scope document that includes everything about the project. "It's useful as a tool for clients to get alignment internally and create the right visibility and understanding of the project and the outcome," Allsup adds.
While Bryan Griffen, director of industry relations for PMMI, The Association for Packaging and Processing Technologies, and former group engineering manager of corporate engineering for Nestlé USA & Canada, agrees that upfront planning and controlling sanitation issues are paramount to project success. He says a lot depends on the project manager. For a successful outcome, Griffen suggests working with an established firm that is big enough to handle the many challenges faced during expansion projects. "If the project manager gets sick, they can bring someone else in," he says.
According to Ralph Spearow, project manager and department manager at POWER Engineers, project planning and communication can never start too soon. "Projects seldom fail because there was too much communication," he says.
Can your current infrastructure handle it?
When processing plants must keep production running while expanding their buildings, they must build temporary walls and ensure foot traffic is moving in the right patterns to avoid introducing pathogens, dirt or other airflow problems into the existing operations.
"When you've got product that's sensitive to climate conditions, such as humidity or temperature, it can have a negative effect. You must take that into account because airflow may change," says Griffen.
In a drying facility, for example, some powders are very sensitive to moisture. "If someone opens a door to the outside because it was warm in the building, and a storm moves, it can ruin the product being made because the humidity went up," Griffen explains.
According to Redmond, creative thinking on how to expand but not cause any downtime or food safety risks is crucial. "You need to create a space that can be accessed from the construction perspective without having to walk through the production areas," he explains. Redmond says his firm is currently working on a project where a vestibule area, almost like a tunnel, was made to pass through a processing area to allow workers and equipment to arrive in the construction area.
Some plants start as small operations, but as they expand, their utility needs change and local infrastructure just can't handle it, says Lewandowski. "Sometimes it's better to build a greenfield where all the right utilities are in place," he says.
CRB's McAllister concurs: "When infrastructure upgrades become too expensive and there are complicated legacy issues, such as material flows, hygienic separations, waste handling and general building construction that affect food safety, it is time to consider a greenfield project."
Process controls is another area getting more scrutiny in plant expansion projects, according to Allsup, because plants now have the ability to drill down to how much power a certain line uses. "Then they'll assign those costs directly to that SKU or product category," he states. In the old days, plants just looked at their power bills to see utility usage, Allsup says. "I think granularity in data is giving our clients better insights, so they're asking for more visibility in process controls and automation areas," he adds.
As building codes and equipment continue to evolve, it leads to higher efficiency in operating buildings and equipment, according to Wes Steele, senior project architect at POWER Engineers. "It's an added benefit to plant owners where their overall energy cost tends to decrease a little bit with the advancement of better lighting, more efficient equipment and more efficient buildings.
Frequently during expansion projects, sewer lines, water lines and electricity lines must be reviewed to see if they need to be upgraded. "A lot of times they don't have adequate capacity," says Redmond. "You may need another sewer line coming out the building if you can't tear up the floors in the building to replace the existing one. If you add an ammonia header to your refrigeration system, is it sized large enough to put a second engine room in?" Those are the kinds of things you need to do a cost-benefit analysis to determine the best way to complete the project and still have a maintainable plant, he states.
According to Spearow, if you're expanding process equipment you're probably also going to have to expand the utilities: electrical demand for the plant, steam, compressed air supply, refrigeration supply and the HVAC systems. "Many times, you're updating or replacing old equipment, and you're gaining efficiencies. If you're updating boilers or updating refrigeration equipment, you're probably gaining some efficiency in operation there also," Spearow says.
Stellar is using laser scanners to help document building conditions and dimensions of facilities. "That pays dividends in the execution phase, and you'll have reduced potential for change orders as a result. You [now] have accurate information that helps prevent those change orders," says Allsup. In one recent project, one part of the building was not completely plumbed, and Stellar was able to determine that through the scanning process prior to starting the project. "We were able to design a solution for that situation prior to encountering it in the field. A lot more foresight and understanding of what you have before you start the project can eliminate rework and delays during the project execution phase," he adds.
Consumer enticement
Most building and design firms see fresh and convenient foods as a growing part of their customers' businesses. According to McAllister, CRB has witnessed an increase in market demand for nutritional products and fresh, ready-to-eat products. Advanced manufacturing techniques like high-pressure processing have made fresher options more readily available to consumers, she states.
Due to changes in consumer habits and diet, the most activity has been in healthy snack alternatives, such as hummus and protein trays, and prepared foods, such as sandwiches and ready-to-cook fresh meal trays, reports A M King's Director of Preconstruction Stuart Jernigan.
Frequently in plant expansion projects efficiencies can be found at the end of the line. Spearow sees many advancements in packaging technology. There is typically a trend to employ the latest packaging formats, such as stand-up pouches or a shelf-ready case, he says. For example, frozen food pouches that stand up in a case where the case has a tear-off top for easy stocking on freezer shelves in retail stores. "A lot of changes are driven by not a change in the product, but a change in the product packaging," he states. "It's all about trying to make your package more enticing to a consumer."
In the end, the willingness of all partners in a project to openly share information and ideas without fear is critical, states Jernigan. "This means all parties must be open to new ideas and technologies," he stresses. "The partners must trust and rely on one another's strengths to make a project successful."
Companies in this article