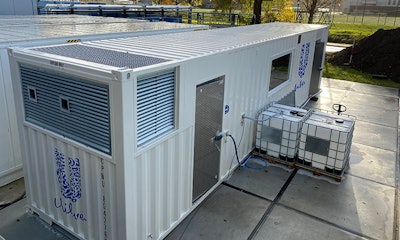 Unilever, a multinational consumer goods company, has put together a supply chain team–led by two female engineers–to provide a solution for small volume production. Seasonal variants, market tests before full launch, and responding quickly to changing demand in local markets are not commercially viable to accomplish on mass production lines, as each switchover takes time.
The Unilever supply chain team offered the innovative solution of creating a "nano factory," a fully-functioning, mini production line that fits entirely into a 40-foot shipping container. It is designed to house everything needed to produce a batch, from the point where raw materials go in at one end to where finished products come out at the other–bottled, capped, and labelled.
Flexible supply capability
Due to its size, the factory can be transported on the back of a truck and needs only an electricity cable and a water hose plugged in to be up and running, says the company. This means it should be quick to deliver and set up and can provide additional capacity where and when required.
The nano factory is a cost-efficient way to produce small batches with minimal waste as much less product is left in the pipes when the line is stopped to be cleaned and switched over to a different product. While it would not match the output of a large factory, any number of these units could be hooked-up side-by-side to incrementally increase production.
"If we build a network of these, we get flexibility in our supply chain which we don't have everywhere right now," says Engineering Manager Olivera Trifunovic, who is joint lead on the nano factory project. "We can see a future where we have a truly dynamic model, with thousands of local production lines all over the world instead of one big one in a massive building. We have a completely movable asset that you can pick up and drop anywhere."
Remote control
The nano factory is fully digitized, meaning it is programmed and controlled remotely. Unilever says all instructions are fed from a 'superuser' sitting in a central location to a screen inside the container. Sensors on the line send data back continuously, so adjustments can be made, and problems fixed, quickly. As all the control systems are managed remotely, the unit itself only requires three on-site operators per shift.
This initial prototype has been developed to produce liquid bouillon for Unilever's Food Solutions business. If successful, the team hopes the model will be adopted by other company divisions.
Companies in this article