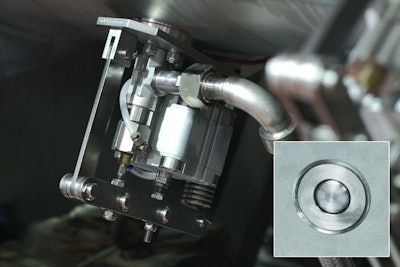 A patented nozzle design that prevents food and moisture from entering the cryogenic injection systems used to chill products is helping processors reduce production costs and improve food safety. Detailed in a new white paper from Linde LLC, the self-sealing injectors prevent food product from penetrating nozzle orifices, where bacteria could grow.
Linde has incorporated the new nozzles into a bottom-injection design that deploys either liquid nitrogen or carbon dioxide to chill products in mixers, kettles and other food processing equipment. Bottom injection chills food faster, more effectively and at a lower cost than other cooling methods because there's no loss of cooling power through the air, as there is when cryogenics are deployed through the top of a mixer. Cryogenic bottom injectors are installed at strategic points to maximize chilling efficiency.
"The injector nozzle deploys a plunger that achieves a positive shutoff at the orifice, which is only open when cryogenics are being injected under pressure," explains Mark DiMaggio, head of food and beverage for Linde Americas. The orifice also stays flush with the inside of a mixer.
The new injection system is available with an option that allows processors to switch between liquid nitrogen or CO2 as needed for greater flexibility in supply and production. It can also be custom-engineered to work in existing equipment.
"After the industry experienced reliability challenges in sourcing CO2 a few years ago, processors began to move to liquid nitrogen as a preferred chilling agent," says DiMaggio. Until recently, bottom-injection systems using CO2 have been the preferred method for chilling.
Linde claims that advanced bottom-injected chilling helps processors improve production, yield and appearance (consistent forming) by rapidly removing heat from foods with a high level of control and process repeatability. These systems can deliver between 20 and 30 percent more chilling efficiency than alternate approaches, according to DiMaggio, because the cryogenic chilling agent stays in continuous contact with the product.
Advanced injection systems also offer hygienic design for easier cleaning and improved food safety. They can be applied across a range of categories and food items, including beef, pork and high-moisture poultry mixes, bean and cheese blends, purees, sauces and other processed foods.
Typically used 
on batch mixers ranging from 250 lbs. to 12,000 lbs., these systems can also be equipped for kettles, augers, grinders and other processing equipment as well as continuous mixing and blending operations. Any of these may then feed forming, packaging or other processing equipment downstream.
More consistent product temperatures, both within and between batches, also help improve release from mixing and forming equipment, and shorter mixer cycle times avoid overworking ground products for better texture and package appearances.
DiMaggio says the more efficient cooling system can save medium-size processors an estimated $250,000 annually on chilling agents, while a large processor could potentially double that savings.
Companies in this article