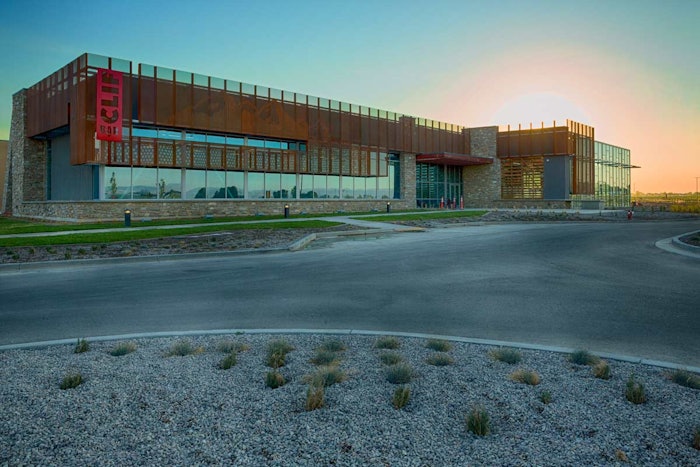 Clif Bar & Company opened its $90 million Twin Falls (ID) bakery, a one-of-a-kind, sustainability-focused facility that intentionally uses biophilic design, a cutting-edge approach to design that connects people in buildings with nature and the well-being it provides.
The new 300,000-square-foot bakery features a host of biophilic design elements integrated into the bakery's original design, including more than 200 windows, vaulted skylights, light-directing solatubes, indoor walls of recycled barnwood and natural stone, indoor plants and sliding doors that connect an auditorium to an outdoor events space. A packaging area without exterior windows offers wall-projected images of the natural outdoors that rotate daily.
"This is the first bakery—and manufacturing facility of any kind in the nation that I know of—to incorporate biophilic features from the outset," said Bill Browning, founding partner of Terrapin Bright Green design consultants in New York. 
Studies show biophilia is a win-win for companies and workers, resulting in increased feelings of happiness and vitality, reduced stress, lower heart rates, fewer sick days and increased productivity, according to Browning, who consulted with Clif Bar on the bakery's design. 
"It was really important to us that our Twin Falls bakery embodied our company values," said Clif Bar CEO Kevin Cleary. "We wanted it to be a healthy, welcoming place for people to work—a workplace that sustains our people, the community and the planet."
In addition to biophilic aspects, Clif Bar designed the Twin Falls bakery with overall sustainability in mind, and is pursuing LEED certification. 
The bakery's green building design elements include hybrid cooling towers that contribute to the bakery using about a third less water than most conventional bakeries. On-demand conveyors, LED lighting, a reflective roof and a water source heat pump help the bakery use about 20 percent less energy than most conventional bakeries. Efficient refrigeration equipment and processes trim approximately 40 percent off typical bakery refrigerant emissions.
In addition, 100 percent of the electricity required to power the bakery is generated from green, renewable energy through the purchase of Renewable Energy Credits (RECs) from an Idaho wind farm.