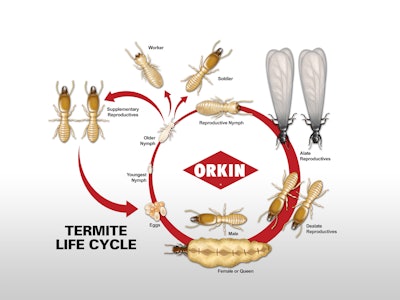 Pest control company Orkin says Miami is the front runner on its first-ever Top 50 Termites Cities list. All areas of the U.S. are prone to subterranean termites. Pacific U.S. and coastal regions of the Southeast have an additional threat of drywood termites.
The list is based on treatment data from the metro areas where Orkin performed the most first-time customer termite treatments from February 1, 2018 – January 31, 2019. The ranking includes both residential and commercial treatments.
Miami
Los Angeles
Tampa
New York
New Orleans
Atlanta
Washington, D.C.
West Palm Beach
San Francisco
Dallas
San Diego
Orlando
Phoenix
Houston
Raleigh, N.C.
Philadelphia
Baltimore
Nashville
Chicago
Charlotte, N.C.
Ft. Myers
Norfolk, Va.
Knoxville
Greenville, S.C.
Charleston, West Va.
Mobile, Ala.
Indianapolis
Cincinnati
Pittsburgh
Kansas City
Richmond, Va.
Honolulu
St. Louis
Oklahoma City
Tulsa
Denver
Columbia, S.C.
Jacksonville
Lexington
San Antonio
Chattanooga, Tenn.
Columbus, Ohio
Grand Rapids, Mich.
Boston
Charleston, S.C.
Baton Rouge
Louisville
Savannah, Ga.
Roanoke, Va.
Champaign, Ill.
Species generally swarm based on favorable weather conditions. Most species of subterranean termites swarm in the spring and summer, a time frame when people are more likely to notice signs of an infestation. Drywood termites typically swarm during the late summer or fall months, from August through November. Varying conditions may mean that swarms will occur at different times.
Proactive termite tips for facility managers:
Check water drainage sites to ensure they remain cleared and effective.
Monitor the collection of moisture by fixing pipes, gutters, downspouts, A/C units and other fixtures susceptible to leaking.
Caulk around utility lines or pipes.
Get rid of rotting wood and debris near the building.
Place screens on outside vents.
Check wooden structures for damage.
Companies in this article