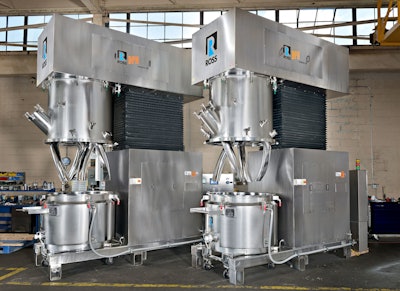 The ROSS Model DPM-150 double planetary mixer includes high-viscosity blades; interchangeable jacketed vessels; an electrohydraulic lift; recipe controls with a data logger; and an all-stainless-steel sanitary, dust-tight design. The two identical blades move in a planetary motion, rotating on their own axes as they orbit a common axis. In 36 revolutions around the vessel, the blades pass through every point in the product zone. Able to turn over thick, sticky or putty-like materials, the 150-gal mixer is suitable for products up to 2 million centipoise in viscosity.
Learn more about mixing products at ProFood Tech, March 26–28, 2019, McCormick Place, Chicago, IL.
Companies in this article
Videos from Charles Ross & Son Company, Inc.