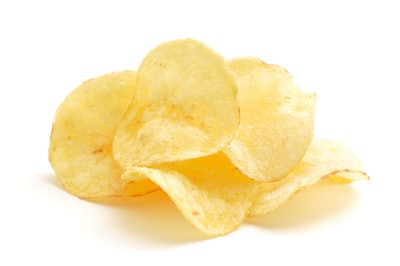 With more than 23 years making sure the equipment keeps running at the Frito-Lay plant in Jonesboro, Ark., Mike Cook might not be surprised by much anymore. But one thing that did surprise him and his maintenance team last spring was finding that bearings on the paddle wheel of the plant's potato chip fryer had been running strong for six years without any need for attention.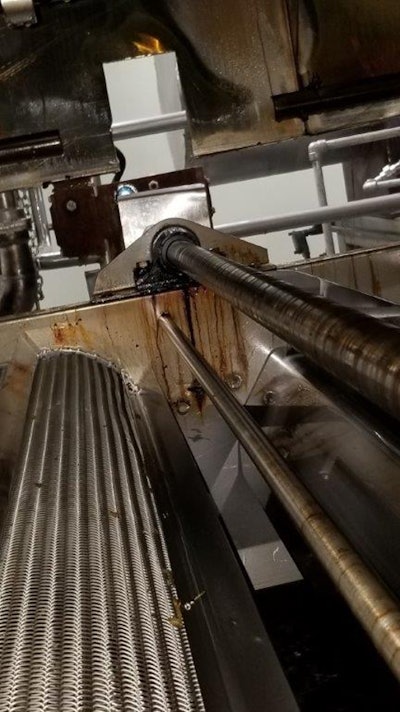 As part of a reshoring initiative back in 2014, the plant had installed a new potato chip fryer, also installing Graphalloy bearings from Graphite Metallizing on the paddle wheel drive shaft. "These paddle wheels operate like the ones you see on a steamboat, only instead of moving water for forward propulsion, the wheels rotate at a specific speed to keep the potato chips in the oil for an exact amount of time," Cook says. "We aim to get the perfect kind of 'crispy'; you cannot leave the chips in the oil for too long, or else they will get soggy. Running 6,000 pounds of potatoes through the fryer system per hour means that those bearings on the paddle wheel drive system work non-stop."
After such a discovery, Cook decided it was time to see where else those Graphalloy bearings could be used in the plant. "When we realized those bearings had been operating for six years without any wear and tear, we thought to ourselves, 'What other pieces of equipment should we install these bearings on?'" he says.
The plant installed more Graphalloy bearings for the potato chip fryer's other paddle wheel drive system during its shutdown last October. Its proper fit required some modification of the base, but the engineers at Graphite Metallizing worked with Frito-Lay's team to manufacture and provide a stainless-steel pillow block.
---
See it Live at PACK EXPO Connects Nov. 9-13: Pro Tips for your Hot Melt Application Equipment, by BeardowAdams, Inc. Preview the Showroom Here.
---
"Even though we had to modify the bearing housing a bit to make it work, it's been a great investment," comments Alan Cochran, lead mechanic. He will take over as maintenance manager when Cook retires next year. Close to a year after installation of the new bearings, Cochran adds, there was no sign of wear.
The maintenance team also ordered bearings and a stainless-steel flange block for the corn washer. "It was sort of funny because they squeaked when they were first put on, and the operators were concerned about the sound," Cochran recalls. "We had to explain to them that Graphalloy is a self-lubricating, non-galling bearing material that is engineered to run dry—running on the stainless steel shaft (it's dry), so the squeaking sound was there initially but would go away as it continued to run."
Typical bearing behavior
Prior to using Graphalloy on the corn washers, Frito-Lay had experienced constant issues with bearing failure, according to Cook. "The previous bearings we had been using did not react well to the caustic material that is used during our sanitization processes," he says. "Every 13 days, the sanitization process utilizes a caustic spray to clean the machinery, and with the corn washer, we did not want to risk rust contaminating the final product. Quality is our standard. Our plant processes between 18,000 and 26,000 lb of corn per eight-hour run in the corn washer, and we wanted to use a material that could stand up to these washdown chemicals."
In addition, typical bearings would have to be greased every day, requiring constant attention and risking over greasing, says Eric Ford, vice president of sales and marketing for Graphite Metallizing. A bakery oven OEM using rolling element bearings was seeing bearing life as little as two weeks for some applications.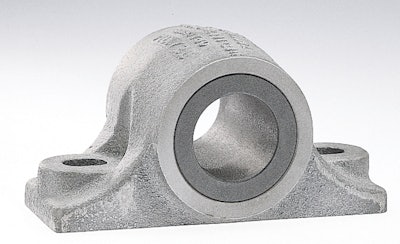 Graphite Metallizing has been making Graphalloy for more than 100 years, since two engineers first developed a method for creating the graphite/metal alloy with carbon. Today, the company combines graphite with a variety of different metals, depending on what sort of application it's being used for. The graphite in the alloy serves to make it self-lubricating while the metal pulls the heat away from the shaft, Ford explains.
The bearings can be used in any number of food production applications, including conveyors and ovens, as well as roasters, freezers, and steamers, Ford notes. Some customers are using Graphalloy bearings in food pumps—handling very high-viscosity foods and substances such as peanut butter or chocolate, he adds. The bearings are also able to be submerged in low-viscosity and corrosive liquids. A customer in Texas is using the bearings in its huge waffle irons, where they want to avoid the use of grease.
"Graphalloy can handle caustic washdowns," Ford notes. "Steam, chemicals, it doesn't care." It can also handle very high temperatures and very low temperatures—from -400 °F up to 1,000 °F. Ford notes the bearings' use for one bagel-making customer handle the temperatures as the bagels make their way through boiling hot water. On the other end of the spectrum, a seafood processing plant that uses cold temperatures (28 °F) to flash-freeze fresh seafood was having to replace its bearings every month before installing Graphalloy flange block assemblies.
---
See it Live at PACK EXPO Connects Nov. 9-13: Creating Multipacks with Shrink Sleeves, by Axon. Preview the Showroom Here.
---
Graphalloy benefits
Cook cites three key benefits of the Graphalloy bearings that Frito-Lay has experienced firsthand:
No grease required, which is important in the food industry, where care must be taken with machinery lubrication. "Even though the industry uses food-safe grease products, you just don't want any kind of grease messing with the quality of your product," he notes.
No maintenance, as evidenced by the bearings running for six years (and counting) without failure or any other issues. "Many continuous-duty process industry applications experience bearing failure after about six months to a year," Cook says. "But in our case, these ran reliably without our maintenance team having to give any attention to them."
Longevity follows on from there. "In an industry that typically runs to failure, it feels much better as a maintenance manager to know we're installing something that is going to run for a very long time," he adds. "It means we can trust the machinery to operate and gives us time to focus our attention on other important projects."
At first glance, graphite might not look like a good fit for use around food products, Ford concedes. "When you look at the product itself, it doesn't look like it would be conducive to a food environment," he says. In fact, a yogurt maker told them, "No way," assuming that graphite dust would get in its product.
Graphite Metallizing got them to try it out, Ford says, and they had no issues with graphite dust near its fruit cup filling machine where the company tried it. This is a typical scenario for Graphite Metallizing—encouraging potential customers to give the Graphalloy bearings a try along with their own production scenarios.
The alloy bearings don't necessarily make sense everywhere—most suited to problem areas such as washdown, steam, or caustic materials. "If you have an ambient-temperature environment, no washdown, and no harsh conditions, you could use many different products," Ford says. In these cases, he adds, you wouldn't get the cost benefit from the Graphalloy bearings.
Companies in this article