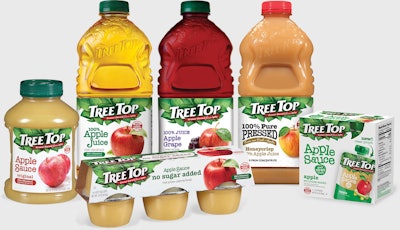 Tree Top
With its headquarters in Selah, Wash.—in the heart of the state's apple country—it's no surprise that Tree Top got its start in apples. These days, the grower-owned cooperative, representing orchards throughout Washington, Oregon, and Idaho, still focuses on making high-quality apple juice, but also a range of other fruit products as well.
At its facility in Prosser, Wash., Tree Top makes a variety of fruit juice concentrates. The majority of the year is focused on apples and pears, but the plant processes a wide range of fruit on a seasonal basis, including strawberries, blueberries, blackberries, cranberries, mangoes, and plums.
Decanters, used to extract finely solubilized fruit, are an important part of the juice concentrate process. "We bring the fruit into the plant, inspect it, it gets milled into the consistency of apple sauce, we depectinize it, and then we run it through decanters to pull out the solids," explains Brian Curtis, plant manager at the Prosser facility.

Tree Top had some old decanters, some built in the early 1990s, that were beginning to be more trouble than they were worth. "We were reaching a point where they were becoming obsolete and the maintenance was incredibly expensive and frequent," Curtis says. "Tree Top decided it was time to upgrade those decanters."
The processor bought its first Flottweg decanter in 2012 at its headquarters in Selah, Wash., and then the Prosser facility got its first the next year. Prosser got another in 2015, and a third one last year. With the different style of the Flottweg decanters, maintenance is easier and less expensive, according to Curtis. "They're very, very low maintenance," Curtis says. "For the most part, we pretty much do preventative maintenance on the lubrication system, and that's about it. We haven't had any of them crash. None of them have failed."
Even annual overhauls are faster and cheaper. "The way it's designed, for the annual overhaul, it's really easy to access the components that you need to do your annual maintenance on," Curtis says. "Also, the way it's designed, the components aren't as expensive to replace as some of the other styles."
Optimizing sanitation, flexiblity
The Flottweg decanters have some other benefits that help to optimize production for Tree Top. Sanitation has been one of the most noteworthy, according to Curtis. "Decanters by nature are pushing solids out to the edge of the bowl with centrifugal force, so it creates kind of this cake of solids. When you go to clean them, if you can't change that G-force, basically, then you're not able to get the cake off the bowl," Curtis explains. "So, with the old machines, we didn't have the ability to get the cake off. We'd have to run them and shut them down, and just hope that the cake would fall, then start them back up and do that a couple times."
The Flottweg decanters have a clean-in-place (CIP) program that changes the flows from high and low, and they also slow down and speed up the bowl. "That helps drop the cake so we get the machines nice and clean," Curtis says
That Simp Drive feature, which offers the ability to optimize the bowl speed, also provides a high separation efficiency that ultimately lets Tree Top use about 25% less energy, notes Jon Kingston, food and beverage manager for Flottweg.
The adjustable impeller is another feature of the Flottweg decanter, making it flexible and easy to adapt to various types of fruits. "It allows that machine to be used in multiple applications," Curtis says. "We've found a sweet spot, though, so we don't adjust the impeller for different fruits." However, it does get manipulated during CIP processes, he adds.
It provides optimized separation because it enables the pool depth inside the decanter centrifuge to be changed while it is running, Curtis notes. Tree Top's old decanter had a fixed dam, which could potentially overflood the machine. The Flottweg is a closed system so that it can't pick up any air or foam.
Also of note are the decanter's outboard bearings, which are completely outside of the product zone, Kingston notes. On Tree Top's previous machines, the bearings were in the product zone, and were notorious for failure. With the new bearings, no product or excess water can get in there, and they typically need to be changed out just once a year.
Future plans
Tree Top has been able to recover 38% of the cost of the latest Flottweg decanter in the first year, so Curtis expects about a three-year ROI.
The Prosser facility is in the planning stages to get another Flottweg decanter—this time a smaller one for a separate side stream of slurry that it receives as a byproduct from other facilities.
Companies in this article