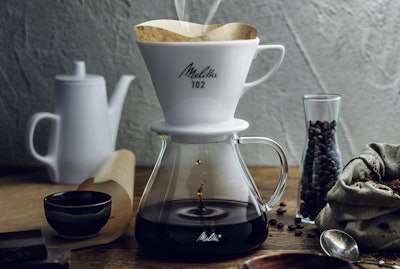 Melitta
Melitta is a brand known for its widely available household and foodservice coffee products, including paper filters, brewing systems, ground and whole-bean java in a variety of pack sizes, serving vessels, and more. Melitta also has a robust business in coffee co-packing for other high-profile brands. The Germany-based company was founded in 1908, and has operations around the world, including roasteries in Brazil, Germany, and Cherry Hill, N.J. In addition, Melitta produces their industry-leading coffee filters at their world-class facility located in Clearwater, Florida.
The Cherry Hill plant has been in operation since 1964, and currently employs around 100 people. While the facility has efficiently served the needs of Melitta's customers over the years, coffee production there has more than doubled over the past decade, so improvements and upgrades during that time were necessary to handle the increased capacity.
Melitta started working with Precision Automation in 2008 to assess those capacity issues and manage the ensuing solutions, right down to identifying available equipment in the marketplace within budget and overseeing installation. Precision Automation was also tasked with keeping downtime to a minimum while new equipment was put in place, and to find machines that would fit Melitta's existing footprint.
The partnership between Melitta and Precision Automation resulted in a new canning line at the Cherry Hill plant, which was a turnkey solution for the coffee producer. The new line included a depalletizer for empty coffee cans, a pressureless combiner to keep those cans from being crushed during production surges, and more. "With Precision's help, we were able to come up with a really good design that met our needs," says Vincent Tagliaferro, director of coffee operations at Melitta North America. "Really effective and an amazing project in terms of efficiency and productivity along the way, setting us up for where we are today."
While productivity along that line improved dramatically over the ensuing decade, new challenges arose as Melitta's business grew rapidly during that time, particularly with bottlenecks caused by an outdated palletizer that couldn't keep pace. "We reached out to Precision first and foremost to help us solve that problem," says Tagliaferro. "We realized at that point we were beyond the ability of speeding up or shortening the time of the existing palletizer and needed to invest in a new unit to eliminate that bottleneck on the back end of the line."
In 2020, Precision Automation created a plan to alleviate those bottlenecks through new equipment strategically placed in lagging areas along the line, beyond just replacing the palletizer. First, an accumulation table was installed to handle overflow when product backups occurred, allowing production to continue on other parts of the line. "The table gave us a 15% reduction in downtime by allowing the line to continue running on the front-end producing and filling cans," remembers Tagliaferro, "while the back-end issues were dealt with. It gave us the ability to have that surge in production and catch up."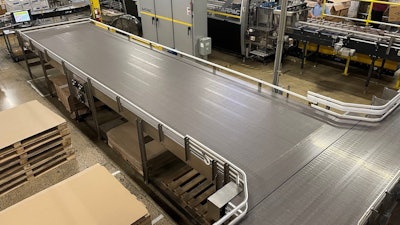 In 2021, the first of two new labelers was installed, using a faster side labeling mechanism compared to the previous machine. "We removed a lot of the motion that occurs when you're applying the label with arms and pistons that come out," Tagliaferro explains. "Now it's basically just a side apply, which has been really effective and efficient."
Next on Precision Automation's upgrade list was a new conveyor that allows for 10 minutes of accumulation feeding into a speedy new tray packer. After that, a new top sheet applicator was installed, along with the second labeler, and a conveyor with zero-pressure accumulation that feeds into the palletizer.
In April this year, the original source of the bottlenecks was addressed when a new palletizer was installed. "The pandemic hit during the course of this whole project and slowed everything down in terms of supply chain, skilled labor to produce, and everything else," says Tagliaferro. Up to that point, the old palletizer couldn't handle the accelerated rate of Melitta's production line, so the company had two to three people hand palletizing to help keep things moving.
With Precision's recommendation, Melitta picked a palletizer made by Columbia, which only took a few days to install. "We utilized Precision from an engineering and layout perspective," Tagliaferro says. "They designed the best process available and actually participated in the direct installation."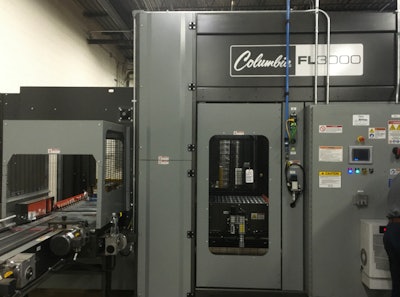 Some of the initial ROI from the new palletizer includes "increased outputs on the canning line and higher efficiency. We've also had a reduction in labor and eliminated some repetitive motion activities," notes Tagliaferro, adding that workers who used to palletize by hand on the back end have been moved into quality control positions requiring more skill.
"If you look at the capital request for this project, we initially called it 'replace the palletizer' to remove the bottleneck on the line. The beauty of the project though, ultimately, is it addressed a couple of different needs along the way," Tagliaferro says. "The sign of a very successful project is when you tackle your main thing, but you're able to eliminate a couple other smaller issues too. Our line is fairly well loaded now and constantly supplying our customers with product. This project has given us more confidence to be able to meet that demand."
Companies in this article