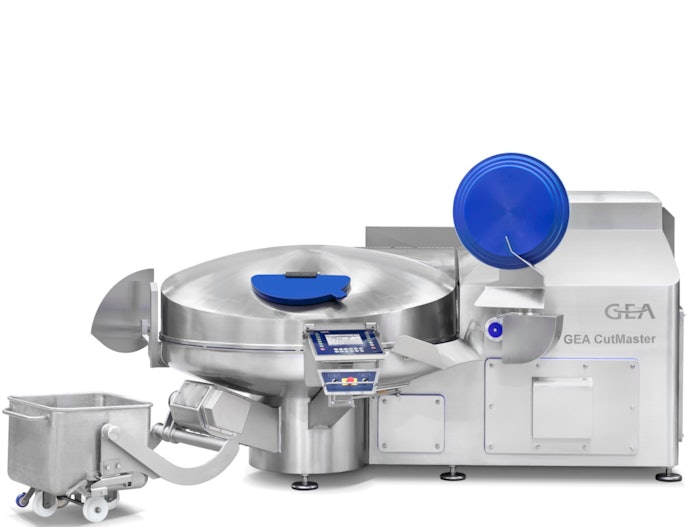 The GEA CutMaster Generation 3 bowl cutter is used to prepare different kinds of sausage and a range of poultry, fish, plant-based, vegan, and vegetarian products, as well as processed cheese.
The CutMaster Generation 3 comes with integrated AC technology as standard. Since everything is built in and there is no external cabinet or connecting cables, the machine's overall footprint is reduced. Thanks to the ease of regulating power delivery, the AC drive offers greater flexibility. The AC motors rely on cutting-edge technology and are maintenance-free.
The bowl cutter features a reinforced machine frame and knife shaft bearing arm to reduce vibration. The optimized hydraulic unit ensures more convenient adjustment and easier maintenance. On the hygiene front, improvements span a reduction in hidden voids, new door, and cover seals, as well as an additional access flap. The machine meets 3-A sanitary standards, the highest level of design and fabrication. Optional hygiene packages are available to meet customers' requirements.
The machine also is equipped with an upgraded control system, including a new standardized user interface employed on all other GEA equipment, such as mixers and grinders. This means operators are less likely to commit errors as they switch between units. In addition, the software boasts a range of new features, such as advanced heating and cooling options, as well as an optional off-line recipe editor.
Available with or without a vacuum, the CutMaster Generation 3 retains all its trusted features while benefiting from new innovations. Using a vacuum helps create a finer product with a better taste and color, as well as fewer air bubbles and jelly deposits, contributing to a longer shelf life. As with previous models, both the standard and vacuum options come in four sizes—200 L, 325 L, 500 L, and 750 L—and different performance levels.
Companies in this article