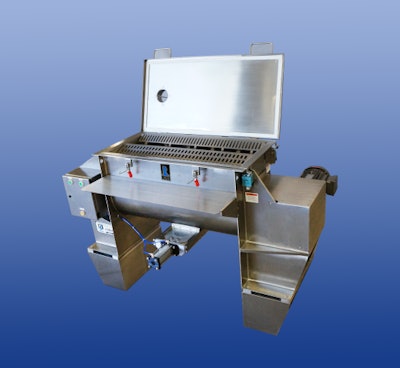 Designed to minimize risk and maximize productivity, Ross ribbon blenders meet OSHA standards. The blenders have safety shaft guards (no external moving parts) and limit switches that prevent operation of the agitator when any cover or manway is open. In addition, safety grating can be installed on dedicated charge ports or across the entire blender opening for extra protection and to make it easier for operators to dump bags of dry raw material into the blender.
The 5-cu-ft blender features a special three-piece grate designed with an angled and pitched profile in lieu of flat surfaces. This provides a more rigid structure and more open area in the grating to improve the rate of loading. Powders are less likely to accumulate on the pitched surfaces, reducing the amount of sweeping required by the operator.
All three sections of the grating have position sensors, which interlock with the control panel, ensuring operator safety while running. In addition to the custom grate system, a small loading shelf across the front of the trough can hold a 50-lb bag. A 4-in vent port is included on the cover to install a dust sock.
Companies in this article
Videos from Ross, Charles & Son Company