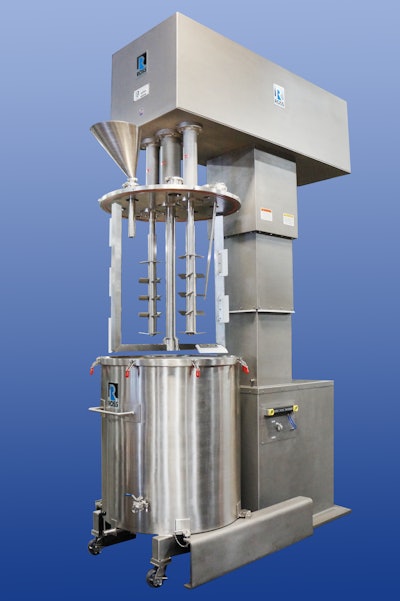 The Ross multi-shaft mixer features a two-wing anchor agitator and two medium-speed agitators, each fit with five rows of three-blade pitched turbines. The Model CDA-200 mixer has two portable stainless-steel mixing vessels and transport covers for semi-continuous operation, a 4-gal charging hopper for introducing ingredients to the batch, and a thermoprobe for accurate temperature readings.
All three agitators are driven independently by explosion-proof inverter-duty motors. The two-wing anchor includes Teflon scrapers that contact the jacketed sidewall and bottom surfaces. Double FlexiLip seals and silicone O-rings enable vacuum operation up to 29.5"Hg for creating air-free pastes, slurries, gels, and suspensions.
Designed for heavy-duty use, the mixer standardizes on precision bearings with large bearing spans, which reduce agitator shaft deflection and vibration, contributing to the robust quality and longevity of the machine.
Companies in this article
Videos from Ross, Charles & Son Company