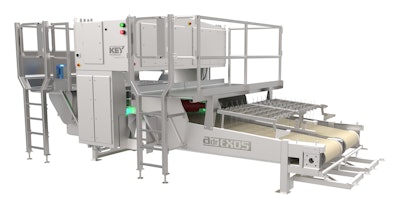 The Key Technology ADR EXOS automatic defect removal vision system recovers French fries with defects and turns them into good product. Incorporating intelligent software, the system aligns, singulates, inspects and trims peeled and peel-on wet potato strips of various cut sizes. The smart diagnostics system continuously monitors air-actuated knife-cutting operations to detect possible issues, while the cutter-wheel features close spacing between the knives to place cuts closer to defects. The system is capable of production rates up to 17,000 lbs per hr for shoestring cuts and proportionally higher capacity rates for larger product cuts. It can be used to inspect defective potato strips rejected from an upstream digital sorter or all strips coming to it directly from the cutting equipment.
Learn more about inspection and food processing at ProFood Tech, March 26–28, 2019, McCormick Place, Chicago, IL.
Companies in this article
Videos from Key Technology, Inc.